There are only a few times that a fragrance will make an appearance on this blog and this is one of them. The reason why I'm a little averse to writing about fragrances is because: 1) you can't swatch it for your readers, and 2) it smells different on everyone, depending on one's body chemicals. So when a fragrance makes an appearance, you must know that it must be that good and I've tested it at least on a couple of friends and family so there is a sufficient sample pool to be writing about it!
The new GuerlainLa Petite Robe Noire Eau Fraiche ($70-86, available here) set to launch in the Summer of 2015, is an addition to the La Petite Robe family which included the original fragrance as well as the Eau de Toilette, Extrait, Brume Cheveux and Couture versions of the range. Unlike the traditional pink-coloured juice that the original La Petite Robe Noire is known for, the lighter, more floral green hue is the perfect wear for warmer months.
The original La Petite Robe Noire is the belle of the ball; The ode to the little black dress reminds me of a woman that is playful and doesn't take herself serious, but confident, sophisticated and graceful.
The latest olfactory delight comes in the form of the Eau Fraiche version, endearingly referred to as the "Ma Robe Pétales" or "My Petal Dress" translated in English. The lighter more "spring"-appropriate fragrance is not just a diluted version of the original or one created for a younger demographic (like the Marc Jacob Daisy Eau Fraiche was): it is equally powerful yet still embodies the characteristics of the original fragrance that makes it so memorable.
I often struggle with Eau Fraiche because it typically is a diluted and "younger" version than the original which makes its existence or addition to your collection, somewhat redundant. Unlike other brands, I've found the Guerlain La Petite Robe Noire Eau Fraiche, while not a completely a different scent, is unique enough to merit a sniff when you come across it.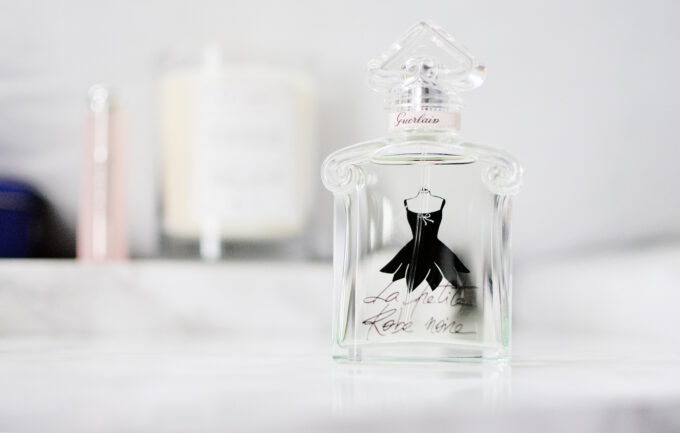 The heavier citrus influence in this fragrance makes it a refreshing spring/summer delight to wear. It's a scent that makes me think of bright colours unlike the pastels that the original reminds me of. If the original Eau de Parfum can be metaphorically described as silk and sequins, debutante kind of ball whereas the Eau Fraiche reminds me of a casual, Gatsby-style parties: classy yet flirtatious.
Now it's your turn! Have you tried the original Guerlain La Petite Robe Noire? What's your thoughts when companies have lighter versions of their original fragrance? As always, I'd love to hear your thoughts! Share with me comment section or through Twitter or Instagram!
---
Disclaimer:
This post features product(s) provided for editorial consideration. All opinions are my own. For more information about my review policy, please
click here
.
---