Whitening skincare is a bit of a big deal in my world and skincare regime. I struggle with uneven skintone due to poor skin management when I was in university and it's taking me years (alongside tons of skincare products) to reverse the damage that I did. Plus, I wasn't always the best example when it comes to wearing sunscreen on a daily basis back then. Lessons learned.
Back in late 2014/early 2015, Guerlain released the Blanc de Perle skincare range, a whitening/brightening skincare range. This was an Asia-exclusive range and was eventually brought over to this side of the world in 2015, available exclusively at Guerlain counters at The Bay, and Holt Renfrew (as well as their boutique locations).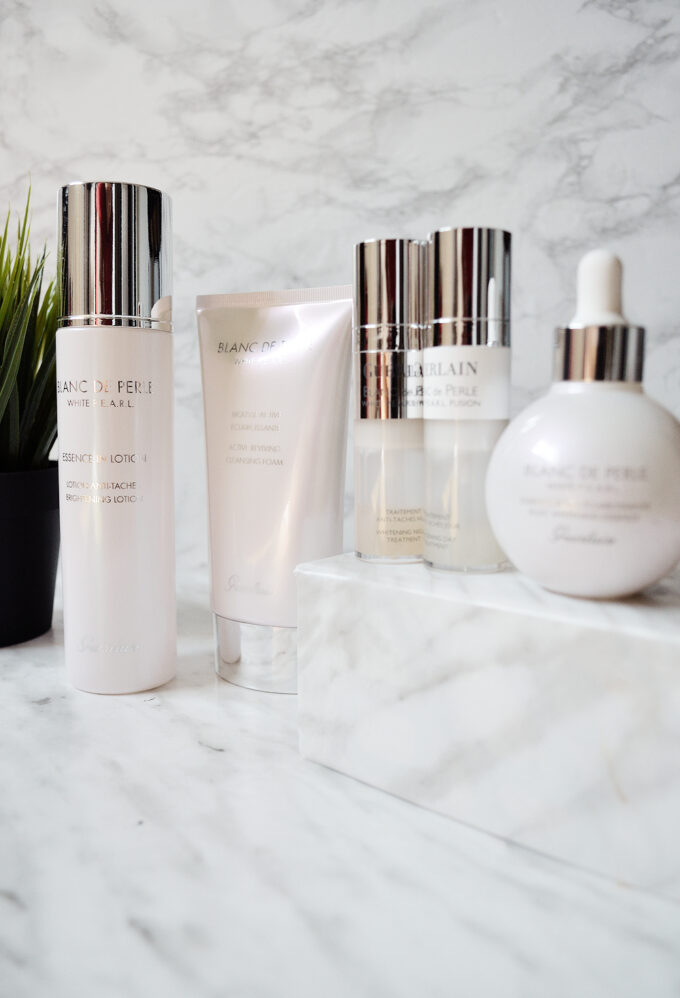 Skin whitening is a massive business in many Asian countries, and initially I had a hard time writing about this because there seems to be elements of racism involved. Thankfully, after further research, the desire to be pale with beautifully unblemished skin (cue the sun spots) is not due to not wanting to have beautiful Asian skintones but the association with social status that dates back for hundreds of years as well as the desire for having glowing skin which is often associated with paler skintones. Back in the days, those who are in working class would have darker skintones due to hours spent working in the sun. Today, it's not really the same kind of dark skin = lower class association, but the association stuck.
The GuerlainBlanc de Perle skincare range is a 3-step skincare routine to achiever glowing, and lighter skin over. Guerlain isn't a stranger to skincare, being a pioneer and inventor of numerous skincare hits since its inception years ago. The range is inspired by the real-life fascinating creation of natural pearls (which are created when irritants enter the shell.
Three easy steps mean three products that to note, and I hope you are excited about these!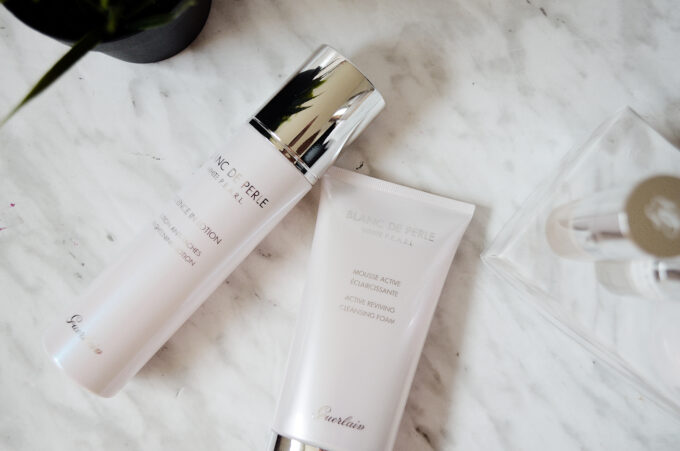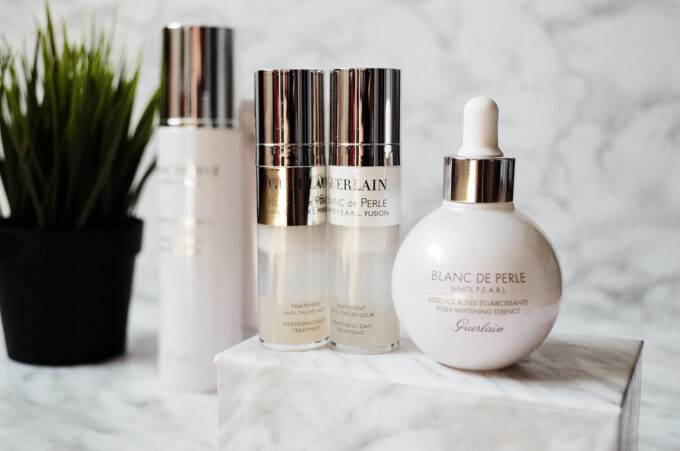 Blanc de Perle White Pearl Cleanser Cleansing Foam
Although the name a little bit repetitive, the GuerlainBlanc de Perle White Pearl Cleanser Cleansing Foam (USD$66 / CAD$67, available here & Hudson's Bay) packs a punch at cleansing the skin. The gel-turn-to-foam texture feels really luxurious on the skin and has fine micropearls that exfoliates the skin as you are washing the skin. The the gel-like substance comes out a little bit like a paste (so don't be alarmed thinking that it's a bad batch), so you have to give it a nice massage with some water on the skin to get it to foam up. The cleanser eliminates impurities, shine and helps improve the blood circulation to remove dullness. Along with the other products in the Blanc de Perle routine, the cleanser preserves the skin's hydration and stimulates cellular regeneration to improve the skin's health.
Blanc de Perle Brightening Lotion
The GuerlainBlanc de Perle Brightening Lotion ($80, available here & Hudson's Bay) is more of a toner than it is a lotion. The whitening lotion evens out the skin while providing a lot of nourishment that instantly brightens the skin. The formula, formulated with Melanin Control Technology, treats and reduces dark spots, and helps blood micro-circulation to avoid dull skin.
Blanc de Perle Rosy Whitening Essence
The cream of the entire range is a superstar – the GuerlainBlanc de Perle Rosy Whitening Essence ($150, available here) is a serum to be be applied before your skincare, which has high concentration of the P.E.A.R.L. Complex, that immediate prevents the formation of dark spots before it starts, and corrects existing spots. This particular product is unique because it works on existing and preventing future dark spots from appearing – a great preventative care to have on hand.
It probably doesn't need to be said, but the range has a redesigned look – the off-white packaging has a duochrome, mother-of-pearl like finish, a nod to the inspiration behind this range!
Which of these products are you most interested in trying?
---
Disclaimer:
This post features product(s) provided for editorial consideration. All opinions are my own. For more information about my review policy, please
click here
.
---