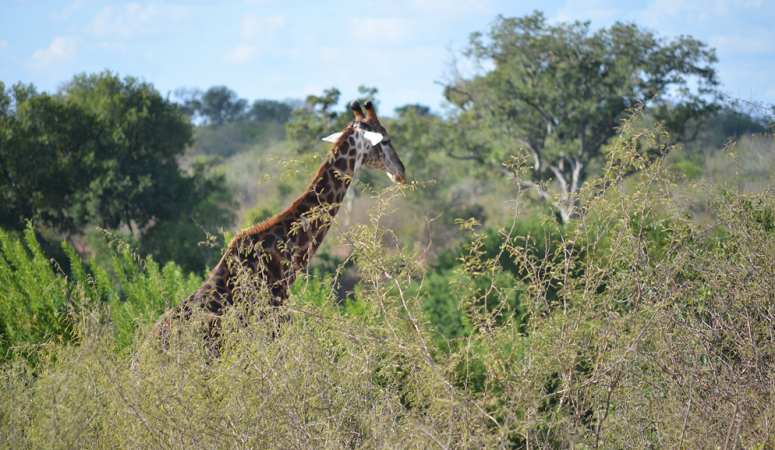 The very first mentions of Africa immediately conjures up images of scenic landscapes, incredible wildlife, and the one activity that combines it all, a safari. The word safari means journey, and what more appropriate ways are there to explore the beautiful, rugged African landscape but through a journey and epic hunt for the infamous Big Five?
On my most recent trip to South Africa, going on a safari was a priority. This has become an activity that defines most African trips, so I wanted to get it in my itinerary as quickly as I can. For those who are uninitiated, safari research and booking can be incredibly intimidating. The good news is that, similar to how much options there are on resorts, there are also options for safaris.
Ranging anywhere from $100/night to $17,000/night (per person), there are so many different options available to suit different preferences, experiences and lifestyles.
For those who wants something more adventurous, camping is a safe, exciting way to experience sleeping under the stars and enjoying the sound of wildlife nearby. For those who crave more privacy and prefer private washroom/bathing facilities, or travelling as a family, chalets is also an option.
For my recent trip, I booked my safari directly with a company called Outlook Safaris which had great reviews on tripadvisor. I was keen on experiencing the wildlife and safari without having to pay an arm and a leg. Right from the first email, I knew I was in good hands.
If you go through the reviews on tripadvisor, you will have come across someone named Elsabe, the lady who manages most (if not all) of the bookings. I received incredibly fast responses, and thorough information, which all served to increase my confidence that I was in good hands.
I shared my concerns with her that I was travelling solo, and I wasn't sure if booking a campsite or tent is the safest way to go, but she assured me that they are quite safe, and added that I could bring my own locks if I wanted to take extra precautions.
I was not too keen about the shared toilets/bathrooms so I asked her if she could customize a package for me, and she did so without incurring ridiculous charges. Overall, from the first email, organization, and payment arrangements, everything went well.
I went on a 4 Day/3 Nights Combo Safari (Budget and Classic Combo) which was a custom itinerary. The only differentiation is the accommodation, which was 2 nights in a budget tent and 1 night in a chalet. The accommodations are owned by SAN Parks (South Africa National Parks) so they are located inside the park, which is a HUGE boon as you don't have to wake up too early in order to catch your first drive of the day. Plus staying inside the park just feels so much more authentic.
In case you are also wondering the benefit of staying inside the park vs. Outside, know that there is at least 12km drive from the gates (where they do all the checks on the vehicles to prevent illegal poachers from smuggling things out) to our rest camp. Although there are multiple entry points to the park, imagine being stuck in a queue at the gate at 6AM just to get into the park, while everyone else has left, at exactly 6AM (when the park opens).
The price I paid included breakfast/snacks, dinner, and transports within the park. Transfers from the airport is an additional fee, but worthwhile to arrange it with them as it will save you the hassle and headache trying to find someone to arrange a 6-hour transfer.
In terms of the drive, you get 1 evening/night drive led by the SAN Parks Rangers (Only official SAN Parks Rangers are authorized to lead night drives), 3 morning drives, 2 evening drives, and optional excursions (Panoramic Route or Bush Walk) all of which can be booked once you arrive and are free of charge.
The Outlook staff are incredibly accommodating, patient, helpful and go out of their way to make you feel comfortable. The owner, Peter is personally involved every evening, to arrange the next day's activities and can help you take care of things. All the staff do multiple jobs, from leading the drives, cleaning the tables after dinner, and / or transferring you from the camp to your accommodation.
In terms of value for money, I definitely feel this has been a great use of money. Safaris are typically more expensive, especially if you are picky about sharing toilets with strangers. After doing a lot of research, I would say this is one of the less expensive and more budget-friendly safaris out there.
The group size is also quite reasonable. On the day I arrived, I was joined by a family of 3 from India (Mom/Dad/Daughter) who practically adopted me since their daughter and myself are the same age, and 2 guys from Norway. As a group of 6, we bonded so quickly and became instant friends, lamenting when some of us leave.
We got along so well that we spent one evening drinking the all you can drink wine from Outlook well into the night. We were such instant friends that it was hard to bond with the new groups that arrived several days later – we were our own little clique.
In terms of the accommodation, I would say that the camps and tents are quite nice, if you are used to the outdoors, comfortable with shared toilets, and have done a bit of camping in your life. It's bearable for me who did not meet the criteria of the 3 items above. The tents are spacious, and there is a fridge to store your food. The tent (not camping tent) has a fridge and electrical outlets.
The chalets, by camping standard, is luxurious! It was more than what I had expected – the rooms are equipped with an AC, fridge, fan, private bathrooms, lounge area and safes. I think if you are used to staying in hotels all your life (which is my case) and haven't been outdoors very much, the chalets is a premium worth paying for.
The good news is that each chalet and tents are cleaned daily similar to housekeeping at hotels. This was a welcome surprise for me as I had not expected it at all!
In terms of safety, this is where I have a bit of feedback. I've never camped in my life, so I didn't realize how dark it gets at night and at 5AM. I brought a flashlight, but even then, using my camera flashlight and my own flashlight, the light was barely enough.
The camp site is located very close to the rest camp (Skukuza), quite literally outside of the rest camp, so if you are lucky enough to get one of those camp sites, you don't even have to wake up too early. The chalets are slightly further, but at most, 5 minutes walk away.
You can actually see the chalets from the rest camp. The budget tents are the furthest – and this was where I felt incredibly uncomfortable because combine the dark night, distance (it can be anywhere fr 15-30 minutes walk) and the fact that it's very easy to get lost, I felt that Outlook could have gone a bit more out of their way to help drop me off at my tent, especially since there are not many people in the tents around me.
Outlook also has their own in-house chef, and he makes some incredible dinner for us to enjoy. From ostrich steak, lamb chops, and braai chicken with pap as well as traditional African dessert, each meal outdid the previous ones in the best ways possible.
Overall for my first safari, Outlook has delivered and exceeded my expectation. I would gladly book with them again in the future when I am back on another safari.