F45 training is the Instagram-famous studio and workout you love to hate. You've probably seen the countless insta-stories, and posts featured against a no-nonsense blue, red and white background. I wouldn't fault you if your first impression of the gym and those who workout there as being part of some cult or #fitspo wannabe because those were certainly my initial thoughts.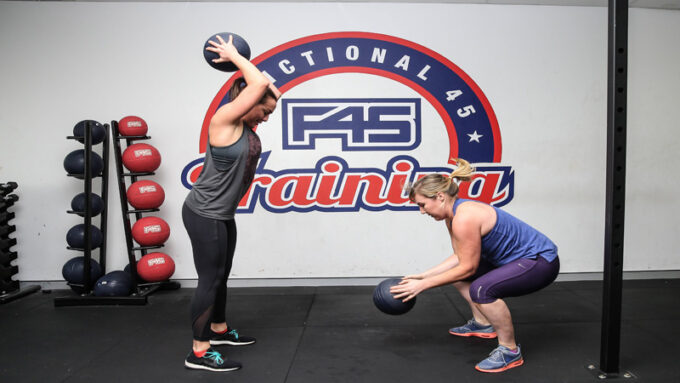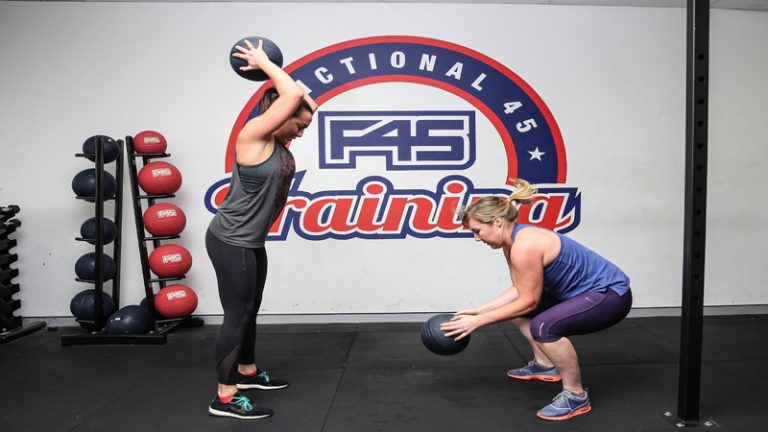 But, having a gym open up so conveniently in the midpoint between work and home as well as the need to kick up my workout program a notch meant that I signed myself up to a trial week before I could say "workout".
I came across F45 Training as a few people I follow in Cape Town have been obsessed with it. Thought I'd give it a go myself and booked myself for the free 7-day trial before I could count all the reasons of why I shouldn't go. I started in November 2018, thinking that I should get myself ahead of the gym rush that follows every new year, and two months later, I'm still going to the classes regularly. I'm talking about 5-6 classes per week and squeezing in two in a day if I know work or travelling will be getting in the way of attending the next class.
I have heard F45 Training being compared to Crossfit, Orangetheory Fitness, and Barry's Bootcamp. As I've never been a member or tried any of those, I can't really comment on it. They seem to have a very similar approach – science-backed, technology-focused training program and you'll have to trial them to find what works for you.
What I am familiar with though, is those big-box gyms (i.e. Goodlife, YMCA) of which I've been members of big-box gyms for 3-4 years, and thus used to regularly attend group classes (kickboxing, strength, zumba, yoga, etc you name it!). When I don't go to the gym, I'll work out regularly at home using free videos from Fitness Blender so I wouldn't say I'm a novice at group trainings like this. But F45 brings something completely different that makes it super addicting to keep coming back to.
What is F45 Training?
Like all things gorgeous, aspirational, and terrifying, the F45 program was born in Australia and has recently made its way across the pond. It's a combination of high intensity interval training, circuit and functional training in a packed resistance and cardio workout which is likely going to be one of the hardest and most satisfying 45 minutes of your day. Each session is guaranteed to leave you with the endorphin rush.
The workouts vary day by day, and alternates between cardio (M/W/F) and resistance (T/Th). On Saturdays, you've got the blockbuster 60 minute hybrid workout called Hollywood (and its sister, West Hollywood) and on Sundays, depending on the season, you can have more cardio or resistance class. Depending on the studio and member demands!
I feel F45 captures that niche market between big-box gyms and personal training sessions. While big box gyms feature the crowd, availabilities, convenience and affordability factor, it lacks the personalization, progression and community feel that F45 brings to the table. On the other hand, personal training can be cost-prohibitive, feels quite lonely for most people so this compromise is what makes people keep coming back.
What are F45 Training Classes Like
The classes at F45 are structured, scheduled and named exactly the same around the world, and a "Romans" class you're taking in Melbourne will feature the same workout as the workout you'll get in Dubai and Toronto. The classes and workouts are pumped out from the Australian HQ on a regular basis which makes it convenient if you're travelling (work or vacation) and ensures there's minimal resistance to showing up to a class.
The format of every class is similar – you start out with a live demo of each station by the trainer, format of the workout (i.e. number of sets, pods) warm ups and being paired off with your partner. If you happen to forget about the movement of the different stations, there's a live TV version that you can check in with.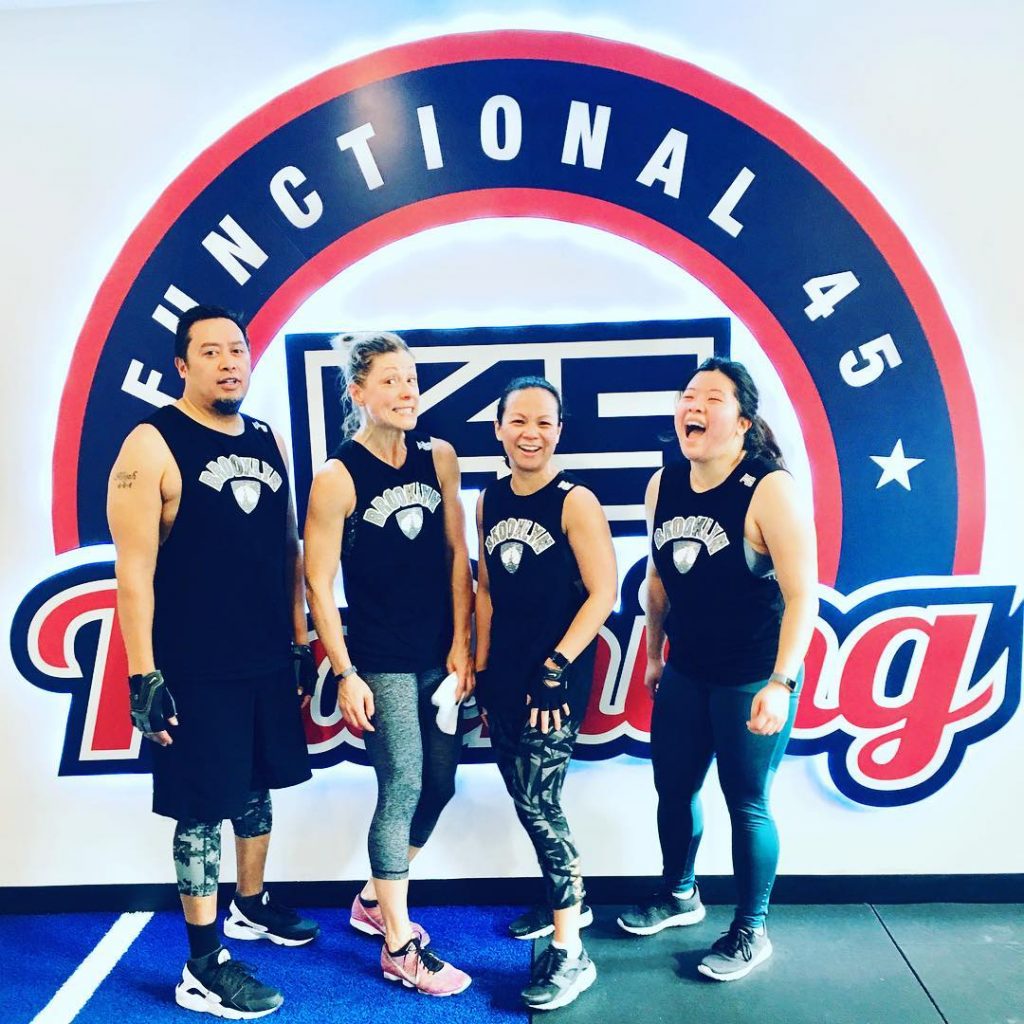 The studio is small and every available space is dedicated to a station. It turns out that my 6:30am class is the most popular time slot, but even with a cap of 27 people/class, we had 10-15 people that morning which was small enough to get to know everyone but big enough that you can learning names. Most of my 6:30am class tend to hover around the 10-15 people mark and most people tend to stick to the same time meaning you get to know people fairly quickly.
Each class features different workout meaning that even if you build up a routine, coming back class after class, you won't become bored with the workout. You might see similar movements but every workout is going to consistently challenge you.
maybe you interested on the treadmill with tv
You don't have to worry about bringing your own gears or wondering how to use the equipment because they are set up for you at the beginning of each class, and the live demo and TV screen will ensure you have a visual cue to come back to.
What my First Day was Like
After I got my trial pass, I booked myself for a 6:30am class. I didn't realized Wednesday was a cardio day and contemplated making up a last-minute emergency to avoid popping into that class. But I somehow made it and at 6:15am, was greeted with the friendly faces of existing members and trainers.
I was nervous being the "new kid on the block" and having read what I've read about F45, knew that I was in for a rough morning. But everyone was very friendly and since you get paired up with a regular member, and there are 2-3 trainers depending on the class size, you're well looked after.
It's a good idea to book yourself to a few classes during your trial period so you can get a sense of the different classes, movements and trainers.
2 Months Later, What F45 Classes Are *Really* Like
When we had those nasty cold weather/snowstorm warning, with the temperature dipping to -20 to -30C, I didn't even consider skipping class. That's how transformative this program has been for me – I've consistently made it to 5-6 classes a week and waking up at 5AM to get my body warmed up (cardio first thing in the morning can feel very jarring) is no longer a strange routine.
I find cardio classes to be the toughest but that's because I always prefer strength training workouts more. My goal over the next few months to really focus on the cardio workouts (I've "graduated" from feeling so winded after each class to feeling like I could leave the class with my dignity intact) so I can reap the full benefit of it. Resistance classes are my favourite (although I feel like every time I say I have a favourite class, it becomes exponentially harder the next time I do it!) so I'm really thrilled that we now have Resistance Sundays! "Romans", "Panthers", "All Stars" are my favourite resistance classes so far!
On resistance days, I typically come in twice a day, once in the morning and one more in the evening. I sometimes skip the tougher cardio days (Looking at you "Abacus" and "Bears"!) so I make it up with a second round of resistance. Plus, I've read that strength training classes are far more effective at consistently burning off fat/calories throughout the day!
I can't even being to tell you how satisfying these classes are, especially once you knocked off a morning workout. Knowing that you've put in your 45 minutes of workout when not many people are awake is a satisfying feeling. Everything hurts and burns during class, and I've sweated so much (and I'm not the person to sweat a lot either).
There's a good mix of women/men and age level; my studio has members as young as 16 and as old as 60 who come regularly. For someone who goes to at least 6 classes/week, I can attest to seeing these members as well. If you have injuries, the trainers will work with you at the stations to ensure you're not over-exerting yourself and can still get the most out of the workout without risking further injuries. There's different levels of fitness as well so you will never feel like the only beginner in the class!
What Makes F45 Training Different
For me, the community, clear and transparent progression and challenge were my main motivators to get back into the gym every 6:30am and despite having memberships at other gyms, this is the only workout I've been able to stick to on a regular basis (2 months!) I was thrilled that I was able to keep my routine throughout December and January when motivations can be lacking and temptation/excuses can grow exponentially.
Results from F45 Training: 2 Months Check In
I love being able to see my progression – I'm not talking about shaving off inches off my waist or seeing sculpted muscles in 3 classes (I wish!!)- no I'm talking more along the line of the form and weights you're lifting. When I started, I was doing 4kg weights at home, and in 2 months' time, I'm doing 8-10kg with proper form.
Since the trainers keep a close eye on you and your form, they will not challenge you to lift heavier unless they think you can do it. Knowing that I've "graduated" my weights and doing it with the proper form is a huge motivation! Of course with proper diet and nutrition, I would be seeing results sooner but given that it was the holidays and my family was in town…
I do notice that my body is leaner and more sculpted. I sleep much better and I feel my endurance has gone way up by consistently coming to class. This is also one of the reasons I hated missing a class – if you miss 3-4 class, you can really feel your body "lose" track of all the weights you've been able to lift.
The sense of community is also what helps me through each movement – as much as everything burns and you feel like giving up, you know your partner and the next person is going through the exact same hell.
Competition is another part of it – although you can challenge yourself to compete against other members thanks the F45 Lionheart band and portal (it's a wearable band that you wear just under the chest area that tracks your heart rate and how hard you work; there's a live board that shows everyone's numbers during the class and it spits out a personalized score at the end of each session), for me, I prefer to compete against myself. I'm always trying to see if I'm lifting more, having better form than the last time I was in.
Where to Find af F45 Gym?
So many F45 gyms are popping up globally that you can probably find one convenient yo where you live, go to school or work. That being said, there's tons of locations to choose from, and I always find the community is really what makes the experience.
Since each studio is franchised, transferring membership doesn't seem to be possible.
F45 Training Cost / Price
I will admit that this is on the more expensive side of gyms/training sessions out there, although they have made it so that it's as inclusive as possible with weekly, biweekly, or monthly payment plans. It all really depends on the studio and you can take a peek at the prices via their "Find a Studio" link and clicking on the "Membership & Prices" options on the studio you want to enroll at.
There is a price point for everyone so while the program itself may appear expensive, it pays off much more than my big-box gym memberships have! In Toronto, the unlimited member pass is $265 + tax, but you can also go for the 20-class pass or individual class passes. Of course, the more frequently you go, the more it makes sense to do the unlimited pass and the cheaper it is! For me, being able to go an average of 25 times in a month means my classes are around $12 each!
Have you been to a F45 studio? Are you interested in trying this program out?