Sometimes, a palette just gets it, and when it does, you want to hold onto it for dear life because there isn't any other one like it that you'd be content with. When the Dior Blazing Gold ($70, available here) entered my life, I wouldn't say it changed it drastically for the better, but I knew my views towards Dior's well-known quint palettes could only get better!
The entire collection, created by Peter Philips is inspired by the noble metal itself combining the iconic Dior grey and adding soft pigments of baby pink, and grey-green encased in a glamorously gold packaging, this is the ultimate splurge to satisfy any of your beauty cravings. This limited edition collection is now available across Dior counters nation-wide!
Dior is not a brand that's too well-known for their eyeshadows, so the arrival of this year's colour themes is something that I'm sure a lot of us were looking forward to. One of the two quints that makes up Dior's State of Gold collection is called Blazing Gold this palette is the epitome of holiday appropriate colours, particularly with that striking burgundy shade. It is described as a palette that is "daring, exalted" but with softer tones to counter-balance the bold burgundy and bring out the colour of the iris.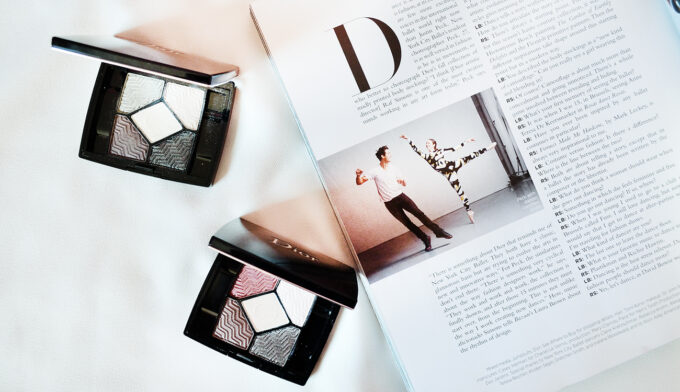 The palette comes with five shades, all shimmery so it might require the use of another palette to balance out the finish. There are no names associated with any of the colours. The palette is designed so that you can slip it into your purse for the night – slim and compact with a full-sized mirror inside, you can do your touch-ups or switch up your look for the night easily. The palette comes with 2 sponge tip applicators for convenience.
I must say that I am a little biased because I love the colour combination in this palette – burgundy and aubergine-type of purple looks very flattering on my NC25 skintone. Aside from the regular beige and brown, both of these colours are the ones I tend to gravitate towards the most for my "glamorous" eye makeup. This palette certainly has that wow factor – it has a lovely combination of colours to bring out my brown eyes.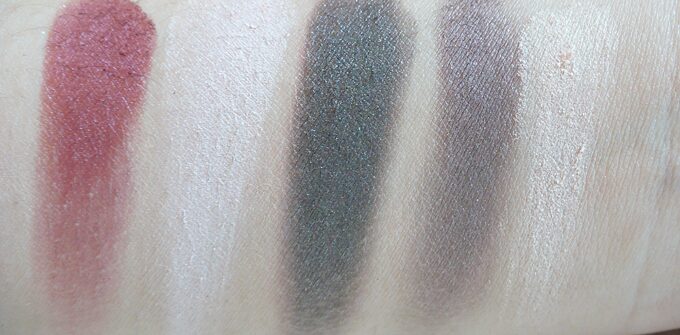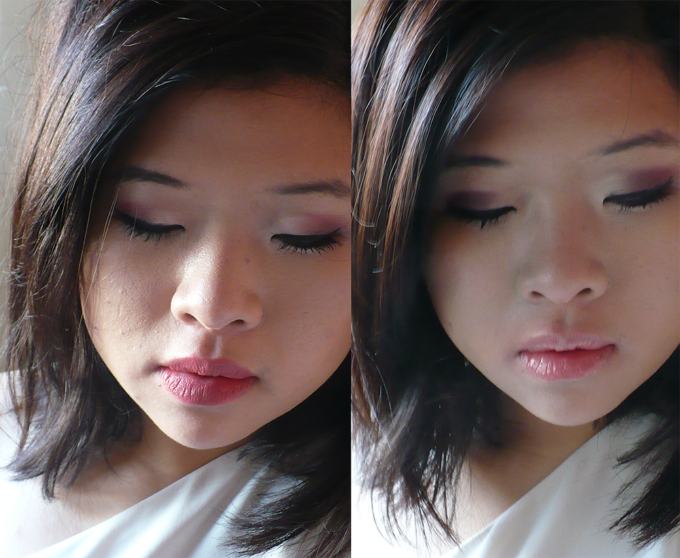 These eyeshadows have the softest textures and minimal fallout and are embossed in a beautiful chevron pattern. I initially felt disappointed because I thought the pigmentation was lacking – the colour took two layers to build up to an intensity I am used to. However, I came to realize that these colours aren't meant to have in-your-face kind of pigmentation.
To the left hand side of the picture above, I wore the top-right hand shade on the inner-half of my eyes, and finished it off with the burgundy shade for a soft, date-appropriate look. On the right, I used the same colour combination and added the purple shade to add more depth and reduce the intensity of the burgundy colour, making it absolutely perfect for a holiday party. I wore the DiorDiorific Matte Lipstick in Radieuse ($45, available here) on the left and the DiorAddict Gloss in Sparkle on the right picture ($34, available here).
What do you think of this year's Dior quint palettes? Which of the two above is your favourite?
---
Disclaimer:
This post features product(s) provided for editorial consideration. All opinions are my own. For more information about my review policy, please
click here
.
---