Doing makeup in poor lighting is a terrible idea! Fortunately, there's an easy way to avoid this all too common fashion faux pas. Lighted mirrors provide nearly natural lighting for flawless makeup applications.
Good Choice
Don't Miss
Also Consider
Beautural 10X Magnifying Makeup Mirror with LED Lights, Lighted Magnifying Vanity Makeup Mirror for...
AirExpectal Makeup Mirror Trifold Vanity Mirror with 72 LED Lights - 3 Color Lighting Modes Makeup...
MIRRORMORE Lighted Makeup Mirror with 3 Color LED Dimmable Lighting, 1X/10X Magnifying Mirror with...
Good Choice
Beautural 10X Magnifying Makeup Mirror with LED Lights, Lighted Magnifying Vanity Makeup Mirror for...
Don't Miss
AirExpectal Makeup Mirror Trifold Vanity Mirror with 72 LED Lights - 3 Color Lighting Modes Makeup...
Also Consider
MIRRORMORE Lighted Makeup Mirror with 3 Color LED Dimmable Lighting, 1X/10X Magnifying Mirror with...
If you've ever left the house with crooked eyeliner, over-the-top foundation, or streaky contour lines, you already know how important lighting is when applying makeup. If you want to avoid looking like a kindergartner caught with their mother's makeup, consider investing in a lighted vanity.
They'll help you nail your daily beauty regimen. Not to mention, they may even give you the confidence to try a bold or complicated look you'd normally avoid.
Best-Rated Lighted Makeup Mirrors
We've assembled a list of the tbest LED mirrors that will help you nail your cosmetic creations.
1. Geek-House Lighted Vanity Mirror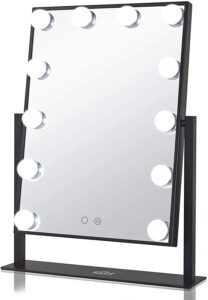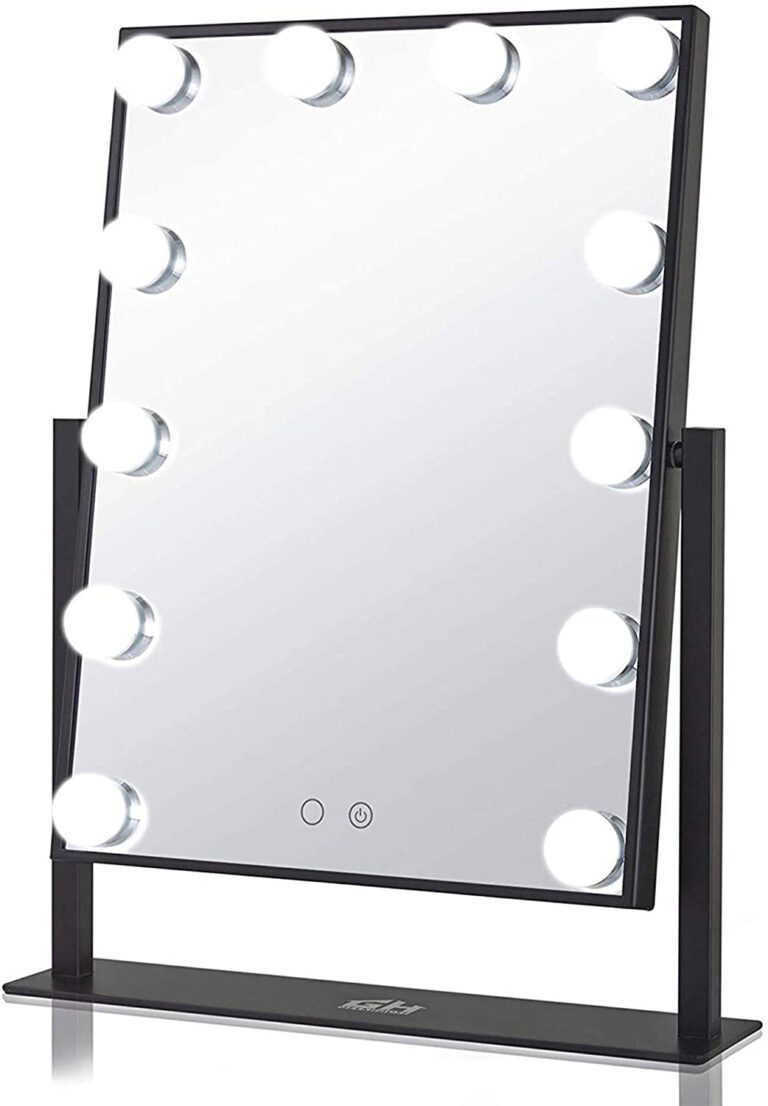 If you're looking to set up a special space in your house or apartment, we recommend the Geek-House Vanity. This bright-lighted mirror has a classy aesthetic and its functional too. Meanwhile, if you're on the market for a more portable option, be sure to check out the Auxmir Magnifying LED Lighted Makeup Mirror.
Are you looking for a glamorous Hollywood-style mirror for a home makeup studio? If so, be sure to check out Geek-House's super stylish lighted vanity mirror. This modern-looking glass has a full perimeter of circular LED lights as well as a sleek metal base. Not only that but it is set on two pivoting shafts that allow it to tilt 360 degrees in either direction.
There is a smart touch on/off button located on the front bottom of the vanity. Meanwhile, a second button allows you to toggle through warm white and yellow lighting options.
The LED lights also have adjustable brightness. There is a wide range of lighting strengths, ranging from dim to ultra-bright. The mirror even has a memory function that stores the last used brightness setting. This is extremely convenient for those who apply their makeup at the same time each day.
Design
The Geek-House mirror comes in your choice of three different colors, which include white, light pink, black. It also has a crisp contemporary look that looks great in nearly any space. Beyond that, it is worth noting that the back is painted. As such, you have the option to reverse the mirror when it is not in use.
The vanity mirror measures 16 inches high and 12 inches wide. As such, it provides you with a complete view of your face neck. What's more, it comes with an attachable magnified mirror. This small accessory mirror boasts a suction cup back. We felt it was ideal for detail work, such as lipstick and eyeliner.
Power Source
We also love that there is no need to worry about replacing batteries, as the mirror's lights are powered by a 60-inch 12-volt wall adapter. Not to mention, the LED lights are designed to last for several years. As such, you don't need to worry about purchasing costly replacement bulbs.
Overall
Overall, this mirror offered superior illumination that mimicked natural light. We also found it easy to toggle through the ample brightness settings. Of course, we were also won over by the modern Hollywood dressing room-style design. Its aesthetic takes this mirror from functional to fabulous without skipping a beat.
If you're using it for everyday makeup applications the small accessory magnifier will do. However, be sure to check out the Anjou Makeup Mirror if you are looking for more ample magnification.
Pros
Color-changing LED lights
Control of brightness
Extra-long wall adapter
Hollywood dressing room design
Large surface
Cons
Insufficient magnifier
Limited frame colors
2. Auxmir Magnifying LED Lighted Makeup Mirror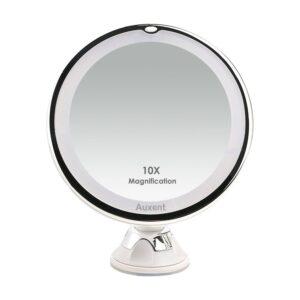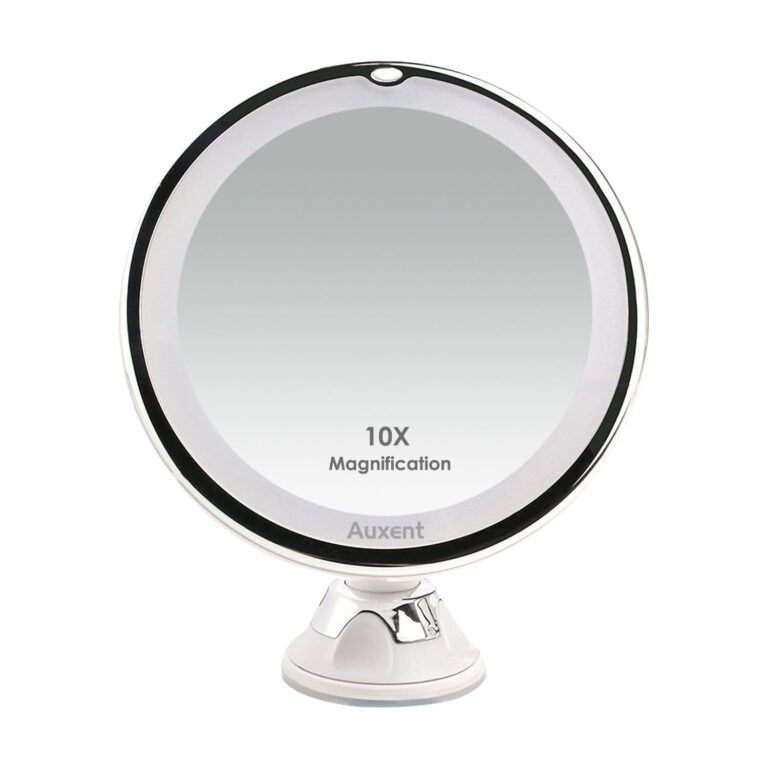 If you happen to be looking for a super contemporary lighted mirror, be sure to check out Auxmir's swiveling lighted vanity. This mirror boasts a lockable suction base for enhanced stability on both vertical and horizontal surfaces.
What's more, it has a 360-degree rotating base for flexible viewing angles. The clean lines and bold curved frame of this mirror make an excellent choice for bathroom counters and the likes.
Design
While we were hesitant about the strength of the suction cup base, it proved to be stable over the course of several makeup applications.
Beyond that, we found that the lights expertly mimicked the sun to allow for flawless makeup applications regardless of the time of day. What's more, we were happy to discover that the built-in magnification feature enhanced the overall visibility of one's face.
The mirror measures 6.3 inches by and 7.67 inches, which we found was just the right size. Meanwhile, moderately bright LED lights line the perimeter of the mirror, providing ample lighting. With such abundant illumination, it's nearly impossible to miss stray hairs and makeup smudges.
Portability
It is also worth noting that the mirror requires three AA batteries. While replacing batteries is a bit of a hassle, they allow users to enjoy the luxury of a lighted mirror without requiring a wall outlet. Not to mention, the mirror folds up for quick and easy storage. With all that in mind, the mirror is ideal for individuals who travel.
Read also: Work Travel Makeup Bag
Overall
When we first came across this mirror, we were hesitant of the suction cup base. However, we found that it has an extremely strong suction so long as it is attached to a flat non-porous surface, such as glass or granite. Between the light and magnification setting, we felt that the mirror offered an extremely detailed view of the face and neck.
In fact, we found that it was a huge improvement over non-lighted mirrors. Between the enhanced illumination and magnification features, it was hard to miss a mistake. Our only qualm was that the on/off button was located on the back. In rare occasions, we found ourselves blindly fumbling around in an attempt to locate it. Nevertheless, we are more than willing to look past this minor flaw.
Pros
Ultra strong locking suction base
10X magnification
Bright white LED lighting
Attractive contemporary design
Folds up for travel or storage
Cons
Requires batteries
The power button on back
3. Anjou Makeup Mirror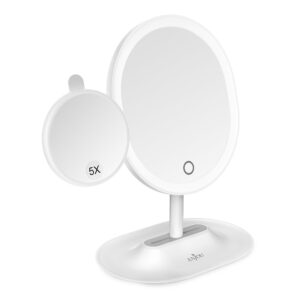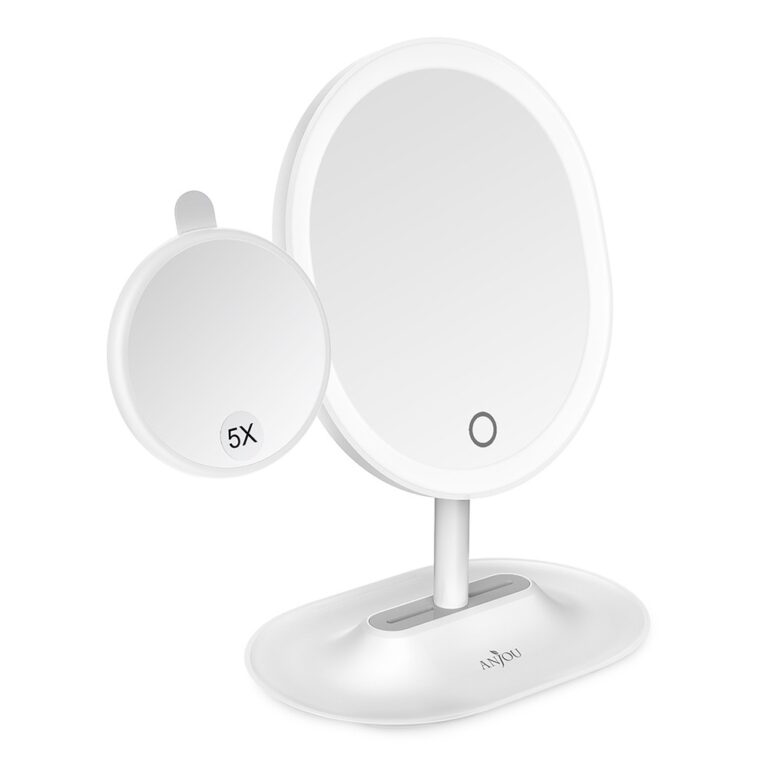 The Anjou makeup vanity is an impressive yet affordable lighted mirror that is ideal for individuals on a tight budget. The circular mirror sits on a contemporary black plastic base.
It is double-sided and can pivot 360 degrees in either direction. While one side of the mirror provides a traditional reflective surface, the other side offers a view that is seven times the standard magnification. To top it all off, the mirror boasts a full circumference of moderately bright LED lights for enhanced visibility.
Functionality
The mirror is rather compact, with a circumference of around 5 1/2 inches. However, with the addition of the base, it has a total height of around 10 1/2 inches. While its small circumference makes it difficult for you to view your entire face at one time, we didn't feel that this took away from the overall functionality of the mirror.
In fact, the mirror's small stature makes it ideal for taking on the road. The height of this mirror also makes it a great option for high tables and pedestals.
Still, the mirror is super bright and helps to reveal the smallest imperfections. While such an up-close and personal view can be somewhat disconcerting, it's worth it to know your makeup is flawless.
We put this mirrored side by side with a non-lighted makeup mirror and were blown away by the difference. Even the presence of ample incandescent lighting couldn't draw upon the details that the Anjou was able to point out.
Visibility
Nevertheless, the vanity's LED lights dramatically increased our visibility in the even the dimmest of conditions. The light was subtle, uniform, and perfect for highlighting small details of the face. Not to mention, the flexible viewing options enabled us to execute complicated self-adhered makeup applications.
What's more, the piece has a bold look that lends itself to the mirror's aesthetic value. Overall, this mirror far exceeded our expectations for this price range. In fact, it was comparable to far pricier models.
Pros
1X and 7X magnification
Dual-sided LED lights
Rotates 360 degrees
Sturdy hard plastic base
12-month limited warranty
Cons
Requires three AA batteries
Base is short
4. Trifold Illuminated Vanity Mirror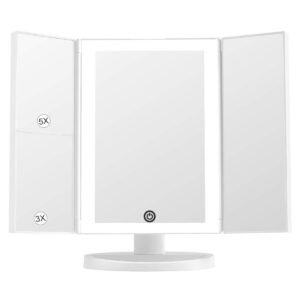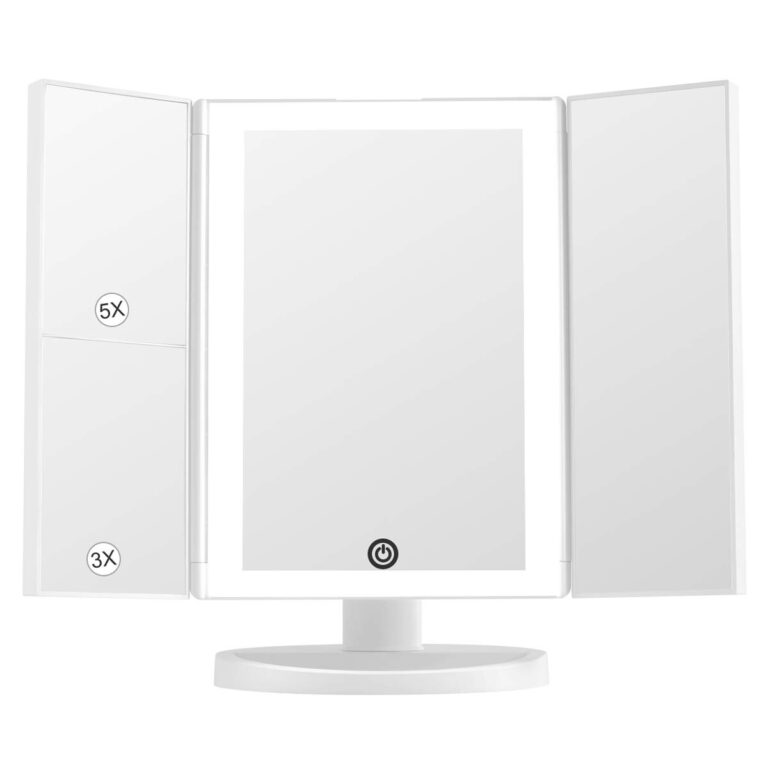 Are you looking for a one-of-a-kind mirror for your home makeup studio? With an iconic perimeter of soft white light bulbs, this folding vanity mirror looks like it was swiped from a Hollywood dressing room.
Not to mention, all three of the panels boast hinged seams. As such, you can close the mirror when it is not in use. As an added convenience, the mirror rests atop a base that rotates 180 degrees.
Visibility
Together, the trifold mirrored surfaces offer a wide range of viewing options. For example, the center panel provides a standard reflection. What's more, when set at an angle, the right-side panel provides a reflection of your profile.
The top left-hand panel provides a reflection with two times the standard magnification. Finally, the bottom left-hand panel provides a reflection with three times the standard magnification.
Design
The mirror is 10 inches tall and can be placed on flat horizontal surfaces. When put to the test, we found it to be extremely sturdy. When fully extended, the viewing surface is 13.38 inches by 9.45 inches. However, it can be folded and therefore consolidated when not in use.
What's more, the center panel of the mirror boasts 21 LED lights. These lights can be controlled with the help of a rear on/off switch. It can be charged via USB or powered by four AA batteries.
This mirror has a spa-like quality that instantly upgrades the style of a room. It even has an ABS system that resists the build-up of moisture and condensation. As such, you can use this luxurious mirror in the bathroom without worrying about it rusting.
While the mirror closes, there's no need to put into away. It can absolutely remain open when not in use. In our own experience, this mirror made us feel like movie stars. Not to mention, it enabled us to apply flawless makeup.
Budget Considerations
We felt that this mirror was surprisingly affordable. For a low price, it offers a wide range of enhanced viewing options. What's more, it boasts aesthetically pleasing lighting. When put to the test, the mirror made detailed makeup applications easy to navigate. As such, we are happy to give this piece a well-deserved two thumbs up.
Pros
21 bright LED lights
Three panels
Three different magnifications
Large viewing area
Folds up
Flexible power sources
Affordable
5. Mirrormore LED Makeup Mirror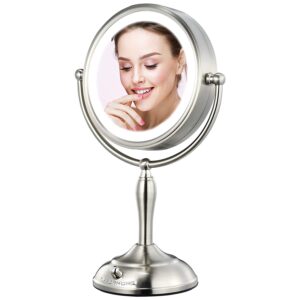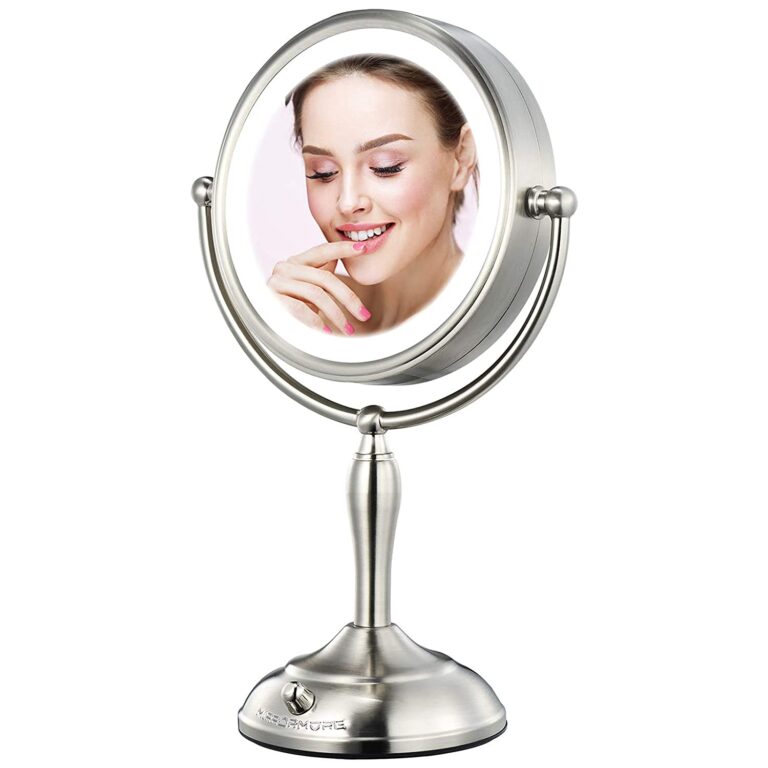 Are you looking for an aesthetically pleasing makeup mirror you won't mindset on your bedroom vanity? The Mirrormore LED makeup mirror has a fairy tale aesthetic that we found hard to resist.
It boasts a bulbous metallic base with two spindly supportive arms. The mirror itself is circular and can be rotated 360 degrees in either direction. Meanwhile, the lighting is built-in to the frame, giving it a classic mirror look with a hidden advantage.
Functionality
While it's hard to get caught up in the beauty of this mirror, its functionality is equally undeniable. The mirror has two sides, one with a standard reflective surface and another that offers 10 times the magnification.
It also features 16 white SMD light bulbs, which enable smooth, shadow-free illumination in a wide variety of light conditions.
Build
With a circumference of just under 6 inches, this mirror is rather compact. As such, it's well suited for travel.
You can power it with four AA batteries or plug it into a wall outlet. These features dramatically added to the mirror's convenience. Since we rarely came across these features in budget mirrors, it is easy to see what set this vanity apart from the pack.
With a competitive price and impressive functionality, we highly recommend this lighted makeup mirror. It's an attractive piece that provides steadfast illumination. As such, it makes makeup, shaving, and tweezing sessions a breeze.
Pros
Attractive look with a sleek metal finish
Dual-sided
Varied magnification
360-degree rotation
LED illumination
Cons
Glue holding mirror to the base may become loose
Base gets hot when connected to AC adapter
Best LED Makeup Mirror – Buyer's Guide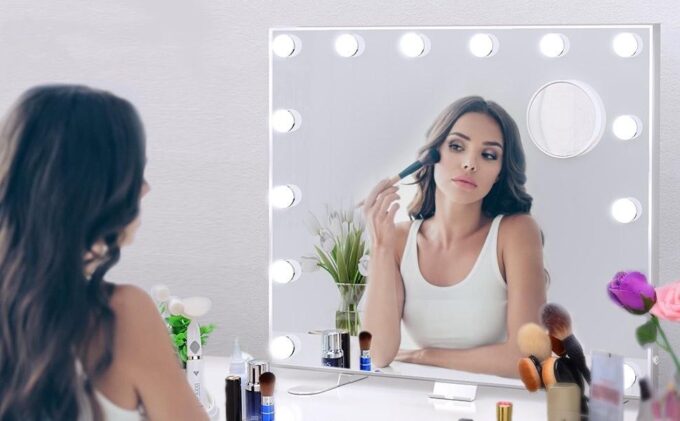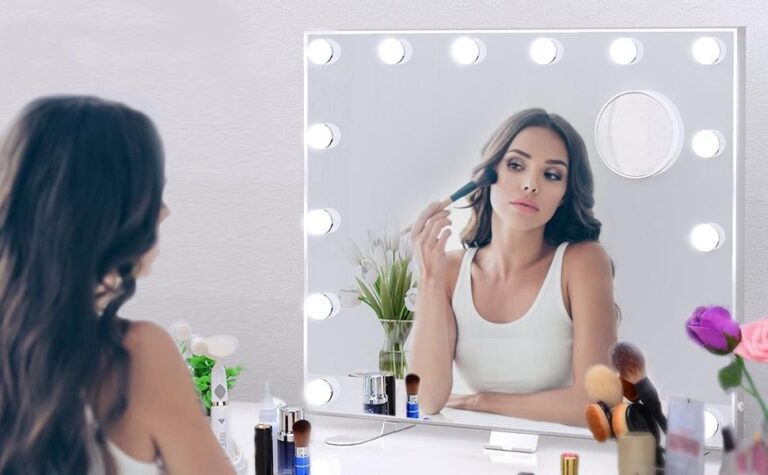 There are a lot of subtle details that go into making the ideal lighted makeup mirror. Read along to learn more about each of these features and what to look for when purchasing a lighted mirror.
Lighting
LED lights are ideal for illuminating the surface of a makeup mirror. For one, they are capable of being far brighter than traditional, or incandescent, lights. What's more, they come in a wide range of colors, including pure white.
Beyond that, LED lights offer smooth, even coverage. As such, LED lights can be designed to expertly mimic natural light. Finally, LED lights are extremely energy efficient. They require low voltages and can even be sustained using battery power.
We found that most lighted vanity mirrors fit into one of two style categories. The first style consists of mirrors with a frame featuring a track of spaced LED bulbs.
Meanwhile, the second style boasts a frame consisting of a seemingly uninterrupted bar of the LED light. When done correctly, boast styles provide even lighting of the mirrored surface that lines within them.
With that being said, we recommend opting for a mirror with adjustable lighting settings. In particular, look for LED lights that can be dimmed. This enables you to alter the brightness of the lights depending on momentary lighting conditions. In turn, this will enable you to apply makeup to the best of your ability.
Magnification
Not all mirrors offer magnification. Those that do offer a substantial benefit to users. That's because, when it comes to cosmetics, no detail is too little to be noticed. So, we recommend that you opt for a mirror that offers minimal magnification in addition to a standard reflective view.
Magnified mirrors have a concave surface that makes images appear larger than they are in real life. When you add light to the mix, these mirrors are the ideal aid for applying precise makeup. While magnification can help you locate dry hairs, smudges, and more, it should only be used as an alternative to regular magnification.
Oftentimes, magnification mirrors are placed on the back of rotating pedestal frames or sides of panels. This way, you can use them at your convenience.
Portability
We're all for large vanity mirrors, but there's something special about those we can actually take with us. After all, not all makeup applications are completed from the comfort of one's home. Look for mirrors that fold up or consolidate easily. Portable mirrors are simply more practical than those that are not.
Design
As a general rule of thumb, lighted mirrors should be attractive and fully functional. In other words, the addition of lights and the need for power should not diminish the overall aesthetic of a mirror. While researching lighted mirrors, we came across a wide variety of mirror styles, including contemporary and classic.
When choosing a mirror of your own, be sure to not your personal aesthetic preferences.
Power Source
All lighted mirrors require a source of power. Many need to be plugged in. Meanwhile, others are powered by batteries. Keep in mind that the latter variety is more portable. However, changing batteries can be annoying and inconvenient.
Final Thoughts
We hope that you thoroughly enjoyed our roundup of the top five lighted makeup mirrors. These fabulous cosmetic aids are an invaluable tool for individuals applying makeup.
With a lighted mirror, one can finally set aside their inhibitions and apply makeup like a boss. In fact, a lighted mirror may be exactly what you need to finally take a stab at that bold makeup look you've secretly been drooling over.
Check this also: