I am so very new to the world of K-beauty so I got pretty excited when I saw the arrival of belif, landing in-stores at the Face Shop. My knowledge, as far as Korean skincare goes only extend to: 1) the 10-step skincare routine, and 2) adorable animal face masks.
Upon doing some research, it appears that their cult hero product is the The True Cream Moisturizing Bomb which is their #1 top-selling product since 2013. I was immediately intrigued when a brand has a moisturizer that does so well in the K-beauty market and also is one of the top-selling moisturizers in Sephora US.
I recently had the opportunity to try out two new products from the belif skincare range, the True Cream – Aqua Bomb ($47, available here) and the Hungarian Water Essence ($51, available here). The moisturizer I have, the Aqua Bomb, is an alternative to the Moisturizing Bomb and is more suitable for those with oily and combination skin.
belif | the packaging
Believe it or not, I am kind of obsessed with this packaging. The simplistic black and white design with touches of blue is very chic, elegant and is a refreshing change from the overly colourful skincare products in my collection. It reminds me a lot of Deciem's The Ordinaries packaging range if you are familiar with them. The plastic white bottle/tube does take away from its luxurious appeal though – I wouldn't have believed that this should cost anything more than $15 from the plastic packaging.
I also appreciate that the artwork design is very much to the point and presents the claims in a more scientific / mathematical way (with bar graphs) – like I mentioned earlier, a refreshing change.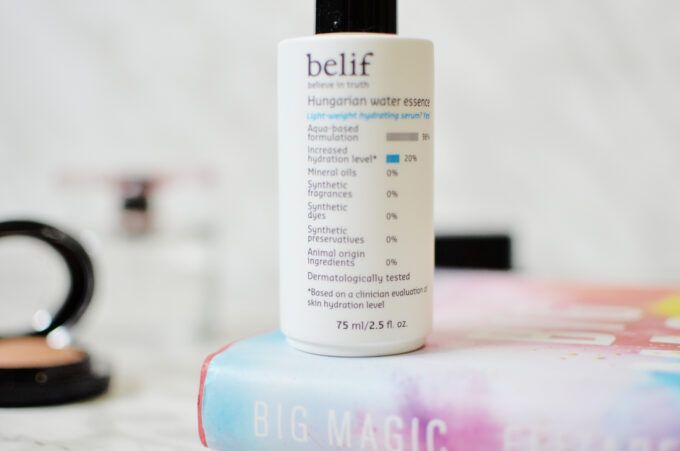 belif | the true cream aqua bomb
I have normal/dry skin so I was curious to try the Aqua Bomb. It has a blue-ish tinge and a cooling gel texture which feels refreshing on the skin. There is a slight herbal-like scent to it, but pleasant overall – it reminds me a lot of a facial treatment! As it is a gel-based product, it sinks very quickly and doesn't leave any traces over the skin.
I didn't feel that it significantly moisturized my skin which is probably attributed to the fact that this is designed for a different skin type than mine. However, when paired with a face oil or serum, it works just as well. Recently, I've been loving pairing this moisturizer with a face oil as it reduces the oily / greasy feeling of the face oil.
belif | the Hungarian Water Essence
To boost the hydration factor, I've been a little obsessed with the Hungarian Water Essence. I've largely stayed away from essences like this after a disastrous experience with Shiseido's Eudermine Revitalizing Essence which left my skin super dry and flaky. I had a poor reaction to that product because the second and third ingredients were derivatives of alcohol.
I can confirm that this water-based formulation hasn't gone rogue on me and sinks right into my skin just like any other serums.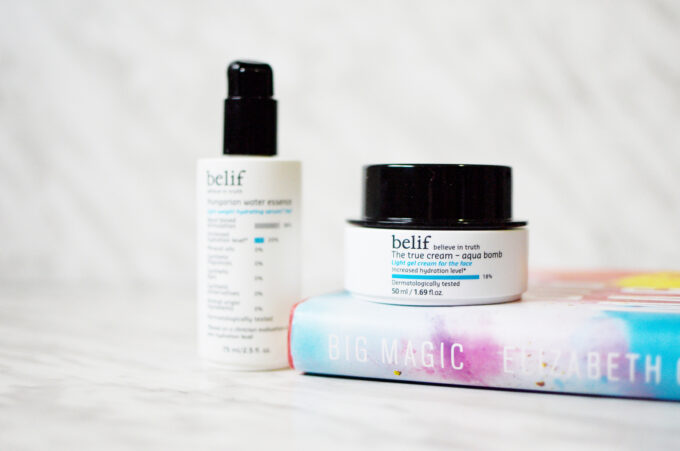 belif | final thoughts
When it comes down to it, I think belif makes a valiant attempt at breaking the saturated skincare market. I am in love with the premise of the product and certainly would justify the price of the products if I really wanted to. What I think makes the biggest difference to me is the natural scent of the products. When I am applying the serum or moisturizer, I feel like I'm being transported into the calming dark spa room and gave me the illusion of applying spa-grade skincare products!
Although I won't be replacing my skincare routine entirely with these, I'll definitely be keeping an eye out for any value sets from the brand so I can try out more products from their range!
Do you have a favourite from belif?
---
Disclaimer:
This post features product(s) provided for editorial consideration. All opinions are my own. For more information about my review policy, please
click here
.
---