When it comes to skincare, Avene is a brand I trust and it was mostly because of my experience with this treatment. I purchased the AveneTri-Acneal Cream ($32, available here) about a year ago when I was struggling with my uneven skin tone, and it was recommended to me by a sales associate at Shoppers Drug Mart. It is apparently one of their most popular product, as it sells out all the time.
I have mentioned several times in the past that I have hyperpigmentation spots due to old acne/scarring as well as sun exposure. They really make me self-conscious about my skin and I'm always on the lookout for a product that can lighten the spots. I've tried numerous products and both high-end/drugstore brands but I would say that this one easily takes the top spot on my repurchase list.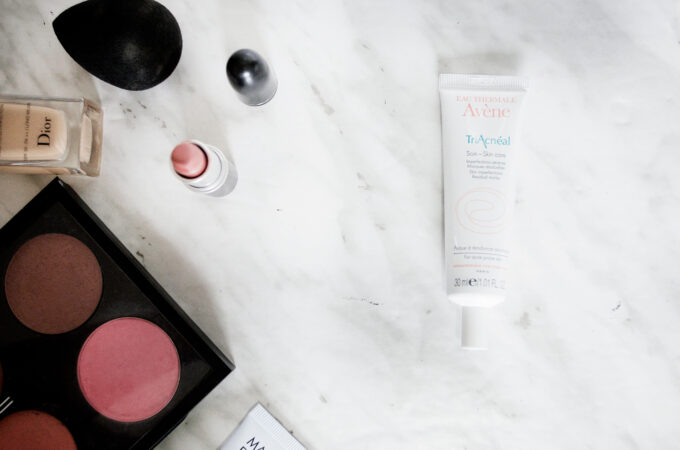 The instructions to use the product is highly specific; this is a night-time use product. You need to apply the cream on a clean face (I recommend applying after shower when the pores are more open or before going to bed). You will need to apply small amounts at a time because too much will burn your skin, which actually happened to me. I don't normally have reactions with any skincare products but this one made my skin somewhat flakey and I can feel the burning sensation for 2-3 days afterwards. I apply this in tiny dots around the troubled areas and rub it around until it is absorbed. Since the product itself is a pale yellow color, once applied, it leaves a slight yellow cast over the area though it is hardly noticeable. I apply this cream every other night because otherwise it makes my skin quite sensitive.
I really like how effective the Tri-Acneal has been at drying out active acne which allows the acne to heal faster. Due to the ingredients in the Tri-Acneal cream (particularly the Glycolic Acid, which works somewhat like a peel on your skin), you will need to apply sunscreen during the day. The product's effect on the skin is akin to a lightened-up version of a chemical peel on the face which is helpful in improving the overall tone of your skin. It sloughs away the dead skin cells, and smooths the skin texture. If you do happen to feel the burn, I recommend using Avene's Thermal Water (Eau Thermal) spray which can help reduce the sensation. Once applied, it may leave some tingling sensation, and that is considered normal. The best thing I like about this treatment is that the cream doesn't leave the skin feeling dry or tight, which is very common with many skincare products that are packed with highly acidic ingredients like glycolic acid.
I've used the product on and off for the last 2-3 months, and have started seeing results. My skin is clearer and a few of the very light sun spots have lightened up considerably. I haven't noticed a significant difference in the hyperpigmentation since it takes a long time to heal. The cream has helped even out the texture of my skin, making it smoother, and easier to apply makeup over. For reference, you can also pick up this product at most French pharmacie for EUR9.99 (which translates to roughly CAD$12)
The AveneTri-Acneal Cream is a treatment for those who struggle with uneven skin textures or skintones. It may not be the ultimate treatment for severe unevenness on the skin, but it does help to slough away the dead skin cells, and is highly effective at renewing the skin texture and elasticity. Packed with ingredients including retinaldehyde which provides anti-aging benefits, and the Avène Thermal Spring Water which adds moisture back to the skin, it is one of the best bargain alternatives available in the market. Although it appears to be an expensive treatment, you can pick up at Shoppers Drug Mart slightly cheaper when they have their sales.
Where to Buy: Shoppers Drug Mart ($31.99)