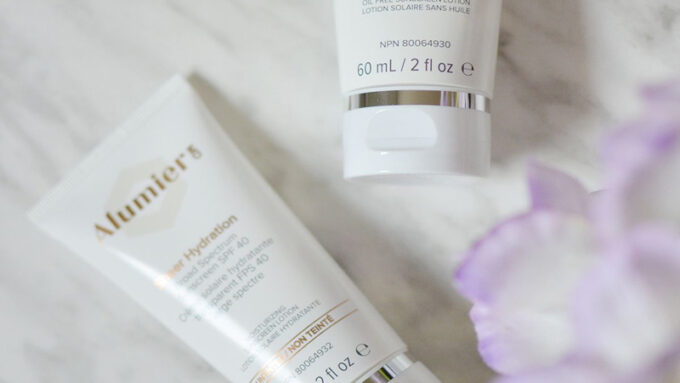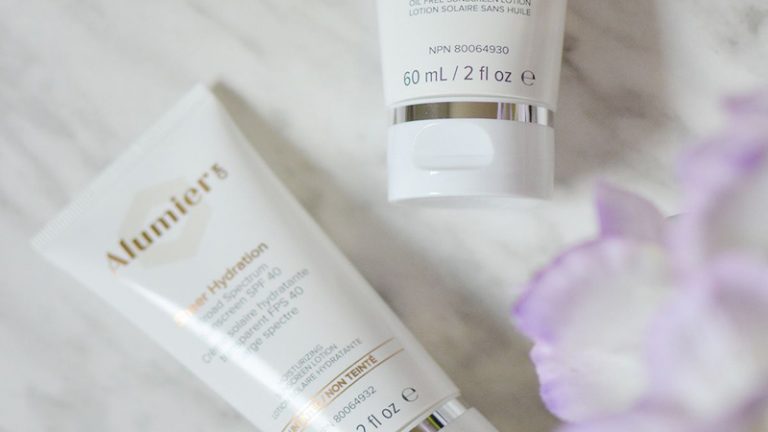 I know we're pretty much at the end of the summer season and hardly is the time to talk about sunscreens. But my mama says that sunscreen is the secret to staying young. And listening to mom is hardly a bad idea.
I'm one of those people who wear sunscreens all year round so I'm always repurchasing them throughout the year. Although I'm comfortable with most drugstore offerings, I'm always willing to try out a new one every once in a while. Especially important to me is if that particular formula happens to be chemical-free. I'm very grateful to have the opportunity to try the new AlumierMD Sunscreen ($60, available here) and share my thoughts with you!
As you can immediately guess form the name, the brand is a scientific-based, expert-approved and professional-approved range of skincare products. AlumierMD's products are free of parabens, sulfates, petrolatum and dyes; most importantly, their products are not tested on animals! There are currently three line-ups of different sunscreen formulas and the one I'll be sharing with you today are the Clear Shield SPF 40 ($64, available here) and the Sheer Hydration SPF 40 Untinted ($64, available here)
Available in Canada and exclusively sold through professionals (you won't find these at your local Shoppers Drug Mart or Walmart) unfortunately. Keep reading if you are interested in finding out more about these sunscreens!
What Makes AlumierMD Sunscreen Different
Not all sunscreens are made equal – What makes AlumierMD different (aside from not including those poor ingredients in their formula!) is not leaving that dreaded white cast, chalky residue on the skin. Furthermore, the mineral-based formula makes AlumierMD's offering a much safer, and healthier choice for the skin.
It's not a difference that I admittedly pay too much attention to but is something that I'm slowly paying more and more attention to. Especially considering the fact that towards the latter half this summer, I was attending a lot of outdoorsy events where I would be photographed (and still would love to wear sunscreen without fearing a flashback in the result!)
Chemical vs. Physical: Most chemical sunscreens (those found in the drugstore) are formulated with chemical protection which studies show to have adverse effect on the body. Physical sunscreen's like AlumierMD's use Titanium Dioxide and Zinc Oxide that protect the skin without having an adverse effect on the body.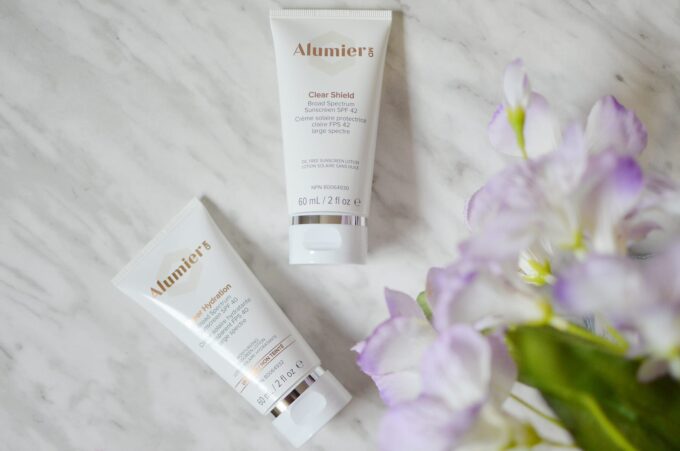 AlumierMD Clear Shield SPF 42 Sunscreen
This lightweight offering protects the skin from UVA and UVB rays using a combination of zinc oxide and titanium dioxide, both are common ingredients in sunscreen offerings. The unique addition of niancinamide and hyaluronic acid help to soothe and hydrate the skin. This is the preferred and most recommended option for those with very sensitive skin or those prone to getting reactions when trying new formula. The formula is also recommended for those with oily and acne-prone skin.
The Verdict: I gave this sunscreen to my sister to try out because she has very oily skin and has had to choose between wearing makeup or sunscreen (not both as combined, they end up a complete mess on her face – something she's been asking me to help her with!)
The lightweight and quick-dry sunscreen formula was a pleasant surprise for her – she said it felt just like a regular moisturizer. There wasn't as strong of a sunscreen/chemical scent to it either which is something she appreciates. There's a bit of leftover grease-y feel but she can actually wear makeup over it without fearing that the sunscreen will speed up the process of her makeup melting in the heat.
AlumierMD Sheer Hydration SPF 40
Similar to the Clear Shield offering, the Sheer Hydration is also formulated with the "sun shield" – zinc oxide and titanium dioxide. Just like the name implies, the formula is packed with vitamin C, vitamin E, resveratrol, grape seed extract and glutathione to keep the skin comfortably hydrated while protecting it from the UVA and UVB rays. This formula is offered in both tinted and untinted version.
The Verdict: I chose to use the Sheer Hydration for the past two weeks. It's a great formula though I find the hydration to result in a bit more of a greasy finish. I have to be mindful of the type of foundation I use afterwards – if I wear something too dewy, I'd end up with a more "wet" finish on the skin. I prefer to wear a matte formula when I'm using this sunscreen. Similar to the Clear Shield formulation, there is limited flashback in camera which was a lovely surprise.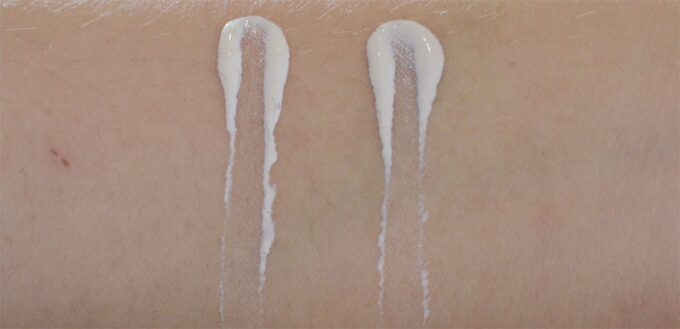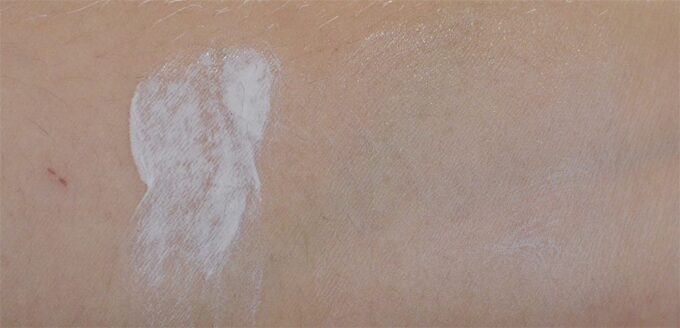 Although it probably wasn't necessary to show you a swatch of these sunscreens in action, I want to show you the texture and how little flashback you can expect with the formula. They have a liquid (not runny) texture and only the Sheer Hydration had some sort of flashback (minimal compared to the regular sunscreen I am used to wearing).
A Few Things to Note
Given the price of the product, I do wish there is a way you can sample these before having to commit to the full-size version. I get it, it's meant to give the illusion of a highly "exclusive" and "expert-approved" delivery method, but I wouldn't know of or have heard of this brand, if it wasn't for someone reaching out to me.
EDIT: So it turns out you can request a trial pack from your dermatologist if you wanted to try out the formula before committing to the full-sized version!
It would be a great idea to offer a sample pack – a trial version/mini size of each item so the user can get a sense of the product before spending $60+ on it. Furthermore, the idea of only being able to access these through a professional can be quite limiting – I personally don't see a dermatologist so again, I wouldn't really know about this product and brand if no one recommends it to me.
If you are sold by my experience with both formula's, I recommend speaking with your dermatologist or use their "Find a professional" tool to see who you can get more feedback from before splurging on the product!
Now it's over to you! What do you think of AlumierMD's range of sunscreens?
---
Disclaimer:
This post features product(s) provided for editorial consideration. All opinions are my own. For more information about my review policy, please
click here
.