Travel photography has evolved quite a bit particularly now that there's a lot of pressure for creating that social-media perfect snap – if it looks good enough for Instagram, the work is done. A few people had asked about my travel photography equipment and what I use to take some of my older photos so I figure I would put something together.
I'm still a bit old-school when it comes to my travel pics – just because my phone did a "great" job at capturing something, I will still get a high-quality version: I want an HD version of said photo so I can print it, or manipulate it in other ways. Being an adventurous traveller, I tend to be in the water / desert / extreme weather quite often so I want to capture all of those memories with the right tools!
I consider myself a casual/amateur photographer so I just take "of the moment" shots I like, and can look back upon fondly, rather than having very artistic detailed work (This is something I hope to work towards!) As a result, my arsenal of photography gears probably look very small compared to some serious pro photographers out there, but these are what works! Keep in mind, these are what I consider to be my must-have when it comes to travel photography and it may differ from user to user, depending on the types of photos and results you're trying to achieve!
P.S. This is not sponsored by any ways by Amazon despite the fact that everything on here was basically bought on Amazon. It just happens that Amazon sells a whole bunch of dupes for so much cheaper than Best Buy so it's a total bargain with the Prime shipping!
My Travel Photography Equipment
1. iPhone 6S
It goes without saying that the iPhone is the easiest photography (albeit not the best) tool I have. The photos are good enough for social media so this is what I always have on me. Most people don't know this but up until 2017, all the travel photos you see on the blog and Instagram were taken on the iPhone 6S!
The iPhone has a decent camera but not the best (this is where I think Samsung owners lucked out). Unfortunately, with all the software updates, you do need a few extra tools (which I'll mention below) to make sure your phone lasts long enough to take those videos and pictures!
1b. iPhone Accessories
Battery Pack ($20.99-$22.99, available here): The iPhone iOS 11 update has wreaked havoc on my battery life – worst of all, it happened while I was travelling in the Middle East! Fortunately I brought my favourite battery pack which kept my phone fully charged throughout the whole week. This little 10000mAh battery pack easily amps up my battery for up to 4 full cycles. I love that it has two ports, just in case I need to charge my iPad in addition to my iPhone too!
Lightning to SD Card Camera Reader Adapter for iPhone ($16.99, available here): I am so in love with this little nifty gift I received for my birthday. This SD card reader hooks into your iPhone's lighting port so you can easily and quickly transfer (or backup) your DSLR / point-and-shoot photos as you go! My Nikon doesn't have the wi-fi capability so this little tool has been so helpful! It's perfect for when are busy capturing HD shots of your adventures and sharing them on social media as you go!
AmazonBasics Apple Certified Lightning to USB Cable ($20.99, available here): I've been incredibly happy with my purchase of the Amazon-branded Apple USB cable because it is impressively sturdy (I've had mine for over a year and there's been no fraying!) Plus it comes in the 6-feet option which is SO HELPFUL when you're rolling around in bed and want to look at your phone!
2. Camera: Nikon D5100 DSLR
I'm not a camera snob to think that point-and-shoot don't cut it anymore, but I've been learning and trying to grow with my DSLR – the Nikon D5100 ($489, available here) which is why I travel with it most. I use the DSLR in manual mode (trust me, it's worth it to learn!) and primarily use the same lens I use for blogging. I alternate between the kit lens (the 18-55mm lens that came with the original DSLR package) or the 35mm lens depending on where I am and what kind of photos I'm taking.
A good alternative is the CanonEOS REBEL T7i ($1000, available here). It's a pricier camera but one that my sister owns and I've borrowed and used a few times. The camera is a bit of a step up than the D5100 and it's a bit more advanced but perfect for some more impressive and artistic photographs.
3. Lens: Nikon 35mm and 55-200mm Lens
The 35mm Prime Lens ($259, available here): This is what I use primarily for blogging and to my delightful surprise, it's also one that works well for travel photography! Although the lens works well for blogging, it does require a bit more work when it comes to travel photos – since you can't zoom in or out, you have to be creative with the angles / shots you're taking. You have to play around to get the right composition and it could prove challenging when you're travelling and doing things that doesn't allow you too much freedom (i.e. when you're on a safari and you can't predict when there will be any wildlife).
The 55-200mm Lens Kit ($329, available here): That's when the 55-200mm lens comes in handy. This was one of those lens kit as well and the zoom functionality and wide aperture helps capturing some really impressive shots with an impressive depth of field.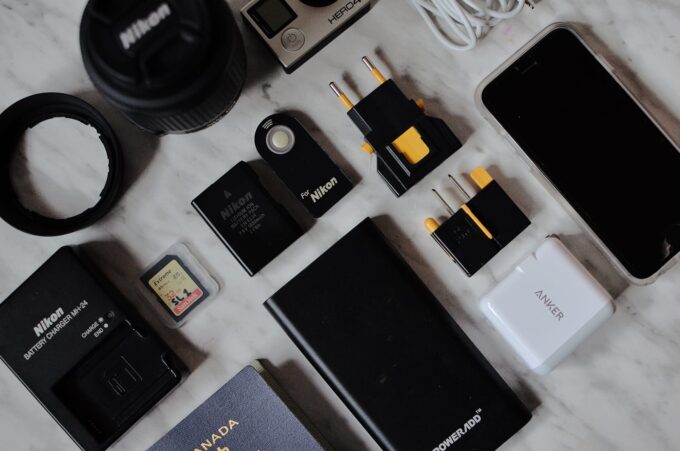 4. Camera Add-On's
In addition to the camera body and lens I use, I have a few extra bits that's helpful to capture excellent shots no matter where I am and what kind of adventures I'm having.
Camera Remote ($8.99, available here): Capturing low-light or artistic photos requires a bit more work to ensure the camera's fully stable. You can download an app that would make your phone a remote but I prefer working with an actual remote in case I need to switch to my phone. These remotes are easily accessible at Amazon – don't buy them at Best Buy as it is wildly overpriced for what it is. I bought mine off Amazon for about $10.
By the way, there's no need to buy the "official" Nikon or Canon remote. The one I bought from Amazon is from a brand called Fresh Camera 23 and is half the price of the original Nikon offering but still works perfectly!
Extra Camera Battery ($20.99, available here): I never travel without my extra battery because extreme temperatures will wreak havoc on the battery. Always bring a backup – there's nothing worse than being left with a dead camera in the middle of an adventure. Similar to the remote, I bought my backup Nikon battery on Amazon for $25 (vs. $60 at Best Buy!)
Similar to my battery backup, I didn't buy a Nikon-branded battery but before going out to buy a backup, make sure you double-check the the battery specification (mine is the EN-EL14) because there are multiple models/types but look identical.
Travel Tripod ($100, available here): I had to purchase a new tripod because my existing one was too long and cannot fit into my suitcase. The one that I really like is this convertible one called the Rangers55″ Professional Aluminum Tripod Monopod. It easily transforms into a monopod and the folding mechanism means it folds into a compact 14″ (roughly 35-40cm) which easily goes into your suitcase or carry on bag!
Backup SD Card ($45.99, available here): Similar to having a backup camera battery, I always have a backup card just in case one gets faulty. I always switch up my cards every other day, again, just in case the first card gets accidentally damaged. It's like what they say, never put all your eggs in one basket.
5. GoPro Hero 4 Silver
My extreme adventure photography tool is the GoPro Hero 4 which I purchased during Black Friday last year. To be honest, I have mixed feelings about this camera – I don't get as much use out of it as I would have liked so the cost per use for this item has been astronomically high. I like that it captures a large amount of the landscape and it's quite compact and small to travel with.
All the attachments can be quite expensive to buy separately (especially if you plan on buying GoPro branded ones or from retailers like BestBuy). Your best bet would be to keep an eye out for those unbranded sets that might pop up at Amazon. I bought mine from Costco for about $32 and it comes with 7 attachments I would ever need (i.e. wrist strap, bike mount, car mount and a few others).
Now it's over to you! What are some of your favourite travel photography gears?