I first got on a surfboard in Ghana, West Africa, and I was immediately hooked. Since, I've only been on a surfboard one other time, in Punta Cana, Dominican Republic earlier this year. Back in Toronto, there isn't much opportunity to put on a wetsuit, and get paddling in the water to experience this exhilarating sport. That is until I came across Surfset Toronto.
Based in Uptown Yonge (I know, it's a bit of a drive!), Surfset Toronto is an indoor surfing-inspired fitness class that's going to totally up your fitness regime! I don't know about you, but after my first wave in Ghana, I knew that I was craving to be back in the water, but without the cost of flying there. Fortunately, a series of "indoor surfing"-inspired classes have been popping up all over the US and now Canada as well, with Surfset being the first to bring it to Toronto.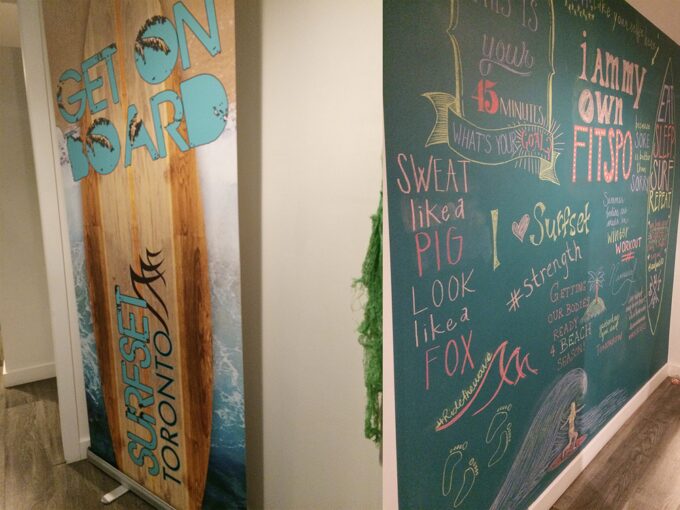 What is Indoor Surfing?
The idea behind this revolutionary exercise comes from a successful pitch on Shark Tank that got a $300K investment and had since, took off in the US. Your workout will be done on a surfboard (that looks almost exactly like the real thing!) balanced on a set of exercise balls that mimic waves in the ocean.
Imagine doing your regular planks, push ups, squats and sit ups on a surfing board that balanced on an exercise ball instead of a flat surface! Your stability will be put to the test, and after your first class, you will realize that you had muscles where you thought you never had them before. Even warm ups and cool downs (i.e. let's take something simple like the child's pose or downward dog) suddenly becomes a little bit more challenging!
Surfset Toronto | The Studio
Located in Uptown Yonge, a short walk away from the Eglinton TTC station, the studio is located on the second floor (right above where the La Boheme Café is located). Upon entering, I was pleasantly surprised to see how airy, clean and cosy the space was despite the small size!
There are bathrooms (decorated with surfing-inspired pictures), a chalkboard with tons of motivational and inspirational quotes, as well as a change room space stocked with face towels, baby wipes, spray deodorants, and Q tips/cotton pads so you can touch up post-workout as well (because you will be sweaty beyond your regular exercise)! The space doesn't feel like an actual studio or a gym – it feels so much more intimate, and relaxing!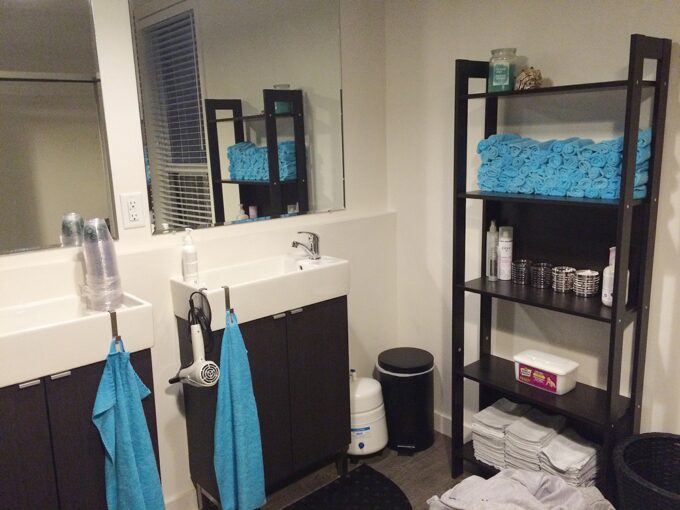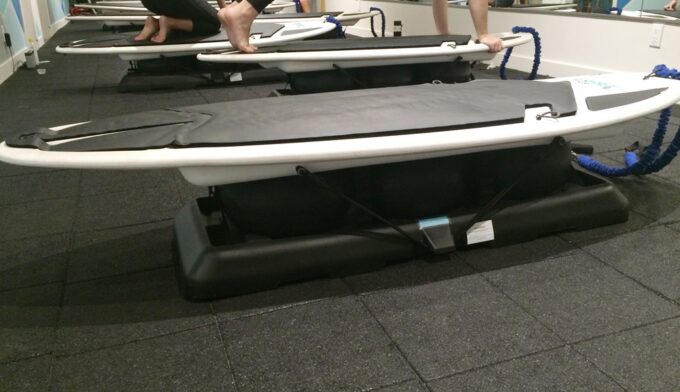 Surfset Toronto | What's it Like?
The classes run for 45 minutes to an hour long, and there are four different classes which offers a variety of exercises: Balance is a yoga-inspired workout; Burn is a sweat-inducing cardio class; Build works on your muscles; and Blend, a mixture of all the workouts. I tried the Balance class which I would recommend for someone who is trying the class for the first time or looking to ease their way into the routine. Even though yoga poses are easy to do on a flat surface, doing a downward dog or tree pose on a non-flat surface requires your core to be constantly working at 100%!
The studio isn't too big, but can accommodate up to 12 surfboards which means a much more personalized experience. When I tried out the class, there were only 5-6 of us in that round so the instructor, Lua, was better able to size up everyone's skills and adjust the exercise accordingly. Upon climbing onto the board, I realized that every part of my body was going to get a workout. The exercises were definitely a lot harder than it looks (it doesn't help that I hadn't been to the gym for about 10 months before I decided to try this), but a trick that I learned as I went through the class is to not overthink every motion. Once you start engaging your core and focus on doing the moves rather than trying to perfect your balance, it become much easier to do.
The smaller class sizes means that on top of getting a more personalized experience, the instructors can walk around, and correct your pose to minimize the risk of injury and maximize the benefit of the workout. I was absolutely terrified of twisting my ankles or falling of the board but constant reassurance from the instructors meant that I forgot all about falling off 10 minutes into the class.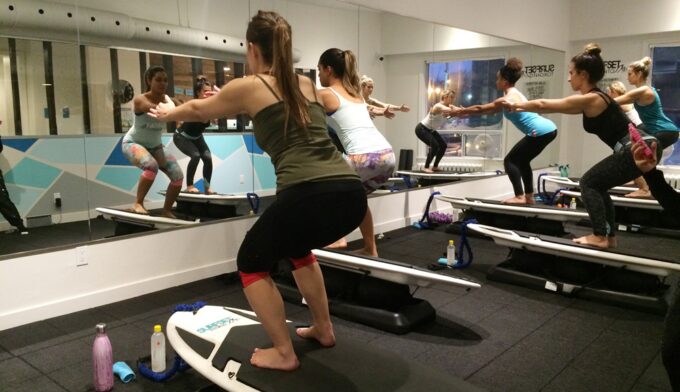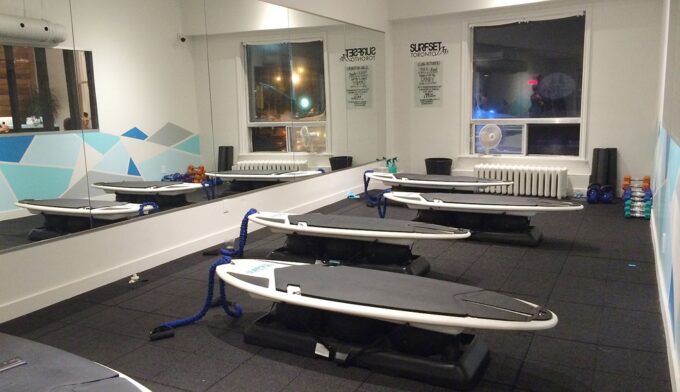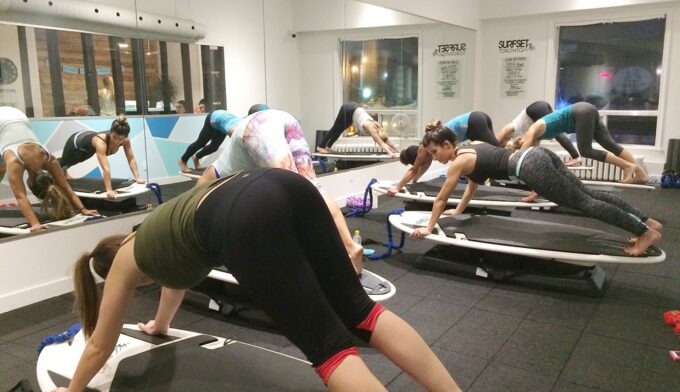 Unlike group fitness classes which can feel like a drag, this surfing-inspired class will make you forget about the time completely. As in, when the instructors start doing the cool down routine, you will have that simultaneous feeling of joy and disappointment that the workout is over. After one class, I can confidently say that these classes will really up your fitness routine and challenge you unlike your regular run or group classes at the gym!
Surfset Toronto | I've Never Surfed, and I'm Intimidated!
Can I let you in on a secret? When I was invited to check out the studio, I hadn't been to the gym for 10 months (due to sheer laziness work, travel and blogging) and I can definitely tell that I wasn't in my best shape or form. The classes felt challenging, but do-able and not impossible to finish. I highly recommend trying out the Balance class to ease yourself into the routine.
Price-wise, I think Surfset Toronto definitely goes on the more expensive type of class starting at $22 per class. You can save some money if you purchase multiple classes or join one of the challenges (i.e. unlimited 2 weeks for $45) that they offer. I've followed Surfset on Twitter, and I find that they communicate a lot of their offers and promotions through the medium.
Personally, I don't think I can commit to this yet due to the limited location (it's about 1 hour drive from home and work, so not a place I can easily drive to!) After speaking with the owners, I was told that they've recently opened a North York location and expansion to other locations are priority as well! Here's to hoping that one will open closer to home!
Surfset Toronto Details
Locations
Main Studio (Midtown Yonge & Eglinton)
2481A Yonge Street
Toronto, ON
M4P 2H6
Taub Fitness (North York)
Located inside of Chesswood Arenas
4000 Chesswood Drive (2nd Floor)
Toronto, ON
What do you think of indoor surfing-inspired fitness classes? Would you give Surfset Toronto a try?
---
Disclaimer:
This post features product(s)/service(s) provided for editorial consideration. All opinions are my own. For more information about my review policy, please
click here
.
---