I was really excited to come home to a Sephora VIB Rouge mailer waiting for me! The holiday season is the time of the year to splurge at Sephora with its annual 20% off sale event. This is considered the biggest sale of the year at Sephora not only in terms of savings (The Spring event is only 15%) but also in terms of the variety of new products, and limited edition holiday sets.
Like previous years, VIB Rouge receive 20% off and 3-days advance access (Nov 4-7). I'm sure more information will be forthcoming for VIB and BI members soon. In the past, VIB members typically get the same amount of discount, but no advance access.
Here is a bit of information about the Sephora 2016 VIB sale!
Advance Access Dates: November 4-7 for VIB rouge only
Online code: 20ROUGE
No minimum purchase required
The code can be used multiple times
Valid on all brands and regular/sale merchandise
Remember that you can use gift cards on your online purchases now!
Free Sephora shopping bag with purchase made during this advance access
On November 4, the VIB Rouge member and one guest is able to redeem 20% off merchandise purchase during an in-store visit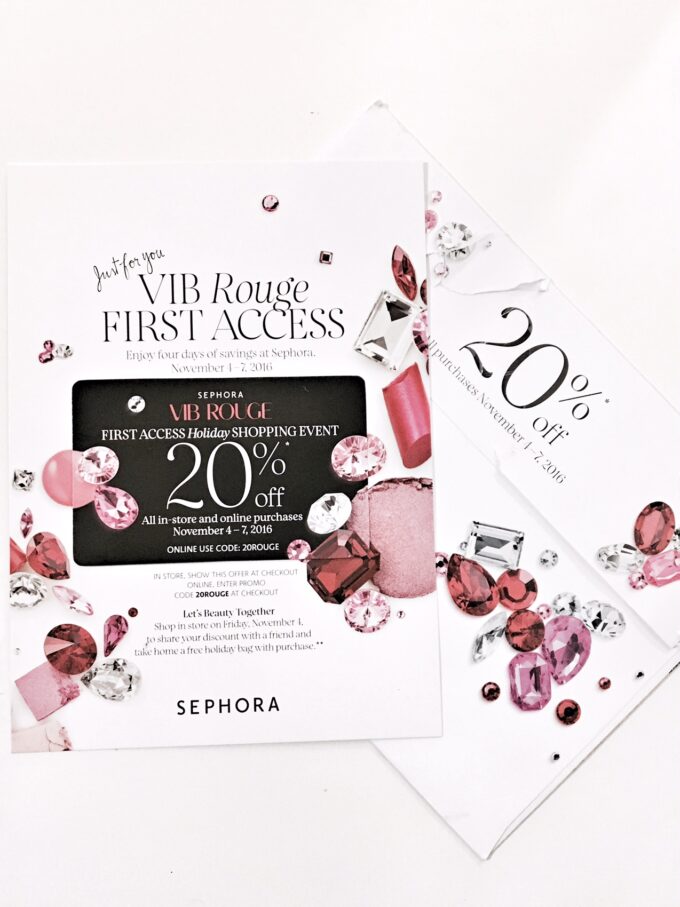 Like previous years, I've been saving up my purchases until this sale because I want that 20% off! If you are shopping online, don't forget to use ebates.ca as well to earn 4-8% cash back on your purchase. As there are plenty of online-exclusives, you can expect to get quite a decent amount back!
What's on my list? Just a few necessities…
SEPHORA FAVORITES Trending: Beauty's Most Coveted
SEPHORA FAVORITES Glow For It
BURBERRY Festive 2016 Beauty Box
Fingers crossed that the items that are currently out of stock will be available during the sale!
What's on your Sephora shopping list?