In my next instalment of the Behind the Blog series, I'm really excited to share a few premium feminine blog themes resources with you! You might have seen some incredibly well-done blog designs and wondered to yourself where you can get yourself a theme just like that. Or you might be in the market for a blog refresh – I can't think of a better time than the holidays to kickoff a blog makeover for the new year – so I want to share with you a few options to choose from.
A well-done blog design can make a huge difference for you and your blog. Ever since I decided to purchase a well-coded and well-designed blog theme, I can only say the ROI has been very positive. Most themes tend to offer free upgrades and customization, so you can make your blog as personal and to reflect you as much as you wish! Several benefits you can expect to see include:
Improving stats and encouraging longer / additional visits
Better coding allowing for airtight security for your blog on the back-end
Positively impacting your SEO
Additional revenue generation source (i.e. ad networks, eCommerce opportunities)
Presenting a well-done finish to attract media/press opportunities
Improved customization for additional personalization
Like this post? Check out the
Behind the Blog
series for more free resources!
The problem is that there are plenty of websites that claim they offer beautiful themes that are SEO-friendly, and easy to use when the reality is a little bit different than that. I've been designing and coding for over 10 years so I think I have a pretty good eye when it comes to picking up designs and sorting out the websites that really deliver vs. the ones that claim to actually deliver.
Not All Themes are Made Equal – The Criteria
I have a pretty stringent criteria when it comes to selecting what I would consider as being a good quality theme design site. The following criteria have to be met for it to be selected to be one of the sites I would recommend for you:
| | |
| --- | --- |
| Front-End Consideration | Back-End Consideration |
| Great quality design, variety of stylistic options to choose from | Secure, up-to-date coding (HTML/CSS are validated) |
| Easy to install (quick, and seamless process) | SEO-friendly, Google compliant |
| Easy to customize (i.e. drag and drop widgets, unlimited colour / font options) | Cross-browser compatibility |
| Great customer service (responsive over social media or email) | Free or minimal installation fee or upgrades |
| Availability of post/page templates, and shortcodes (beginner-friendly) | Responsive / mobile-friendly design |
| Ease of integrating media (video, audio) | 3rd-party plugin / ad friendly |
Buy Premium Feminine Blog Themes
Below, I have showcased a few options to sites to choose from. These sites cater to a variety of theme needs (blogger and entrepreneurs will have different requirements!) and different budgets! To the best of my knowledge, I will indicate whether the themes are Blogger, WordPress-specific or are available to both platforms! These themes would be perfect for everyday blogging or for girl bosses running their side hustles!
I have personally purchased and used several of the sites indicated below which I will identify accordingly. Feel free to send me an email if you have any questions or concerns on how to get started!
A Sidenote about Premium WordPress Themes, and the Genesis Framework
A number of the sites featured below caters specifically to WordPress sites with Genesis Framework installed. These are often identified as premium WordPress themes which tends to feature a more heavyweight theme packed with all sorts of back-end and front-end (though not always so visible) features otherwise not available in a regular WordPress theme.
Most of the minimalistic, stylish feminine designs that have a full-page slider (see theFantasia's homepage) and a variety of unique features (SEO-friendly, extensive customization capabilities from widgets, theme options, advertising capabilities without sacrificing speed) typically run with the Genesis Framework in the background.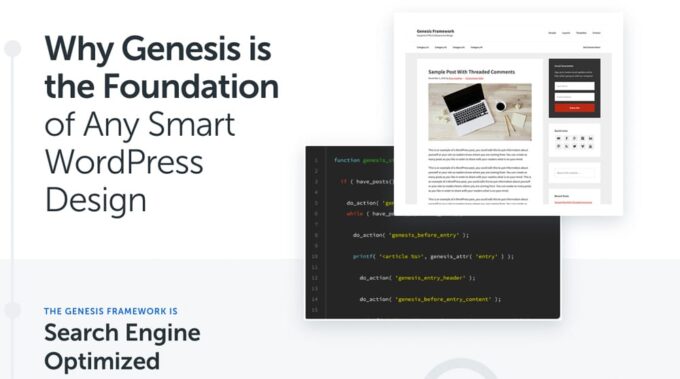 Click Here to Learn More about StudioPress
Keep in mind that the Genesis Framework is a separate plugin offered by StudioPress and have to be purchased and installed before you can use the child themes ($59.95). The framework is a one-time purchase with (as far as I know), free lifetime upgrades. The sites that offer Genesis-only themes will be indicated below.
Still with me? Let's get started!
1. Restored316 Designs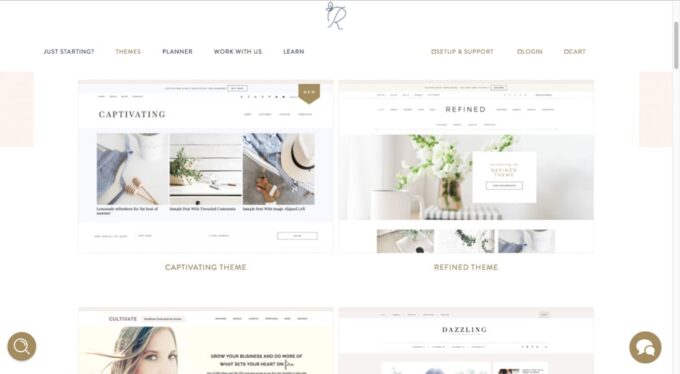 Click Here to Browse Restored316 Design
The Restored316 Designs themes was what I have personally used between 2014-2015. They offer a selection of premium, high-quality, feminine themes for WordPress. They are on the higher end of the price spectrum but the price reflects the quality and variety of features. One of my favourite features that Restored316 Designs offer is the retina-friendly logo on some of their themes – these just add a little something extra for the blog that can't be easily replicated!
The installation process was quick, easy and seamless. It was a breeze to add new widgets, customize aspects of the design and introduce new stylistic options. Restored316 Designs offers only Genesis Child themes, so you will need to have the Genesis Framework installed and running before you can use install their themes. The themes / designs are a little bit more bulky so these themes would be more appropriate for entrepreneurs, or heavyweight blogging.
WordPress + GenesisShop Restored316 Design
2. Pretty Darn Cute
Click Here to Browse Pretty Darn Cute Designs
Another site to source all your WordPress themes needs, Pretty Darn Cute is home to cute and minimalistic (yet colourful) premium WordPress themes. The variety of wordpress themes offered cater to beauty, lifestyle, travel and fashion bloggers, but if you run a functional mish-mash themed blog (i.e. Mommy blogs are typically so much more diverse!) you can definitely find a theme that you'll like here too!
WordPressWordPress + GenesisShop Pretty Darn Cute
3. 17th Avenue Design
Click Here to Browse 17th Avenue Designs
One of my favourite sources of stylish designs has to be the 17th Avenue Design! I wished I found them sooner because they are one of the least expensive and provides some of the most fabulously designed Blogger and WordPress themes I've come across! Whether you are an entrepreneur, or creatives / blogger / boss lady, you'll find something that you will likely on their site! 17th Avenue Design offers all 3 types of platform designs: regular WordPress themes, premium (Genesis-powered) WordPress themes, and those for Blogspot.
Their support is a little slower than the Restored316 Designs but still quite at a manageable timetable. You might have to troubleshoot a lot of things yourself rather than relying on their support system.
WordPressWordPress + GenesisBlogspotShop 17th Avenue Design
4. Pish and Posh Designs
Click Here to Browse Pish and Posh Designs
Another budget option for those looking to get a premium WordPress themes running on the Genesis framework at a budget. Most of the designs are quite similar stylistically speaking to some of the more expensive ones, but feel more blogger and beginner-friendly. The designs are more blogger-friendly so your website will not be slowed down by features that you likely won't use like WooCommerce (an eCommerce platform). Plus with all 3 types of designs offered (Blogspot, WordPress, and WordPress Genesis) you will be able to find designs that suits your blogging needs.
WordPressWordPress + GenesisBlogspotShop Pish and Posh Designs
5. Bluchic
Click Here to Browse Bluchic
Bluchic is a design site that I come across quite frequently when I was searching for a premium feminine designs. Their themes are more catered towards entrepreneurs, creatives, and bloggers who plan on providing resources beyond a regular blog post. With ecommerce functionality, newsletter-friendly template, translation-friendly offering, and social-media accompaniment you can bet that this is what every girl boss needs to run their online business and/or side hustle!
Now it's over to you! Have you come across any of these websites before? What do you think of pre-made and pre-designed blog themes like the ones offered here? Do you have a favourite source to buy a premium feminine blog theme?