A couple of weeks ago, I posted a picture on Instagram of my re-creation of the Healthy Starbucks Iced Caramel Macchiato for $2.50. This was a nifty trick that I learned mostly because I wanted to save money when getting my Starbucks fix ($5.65 for a venti? No thank you!)
If you watch the barista make those iced macchiato for you, you'll notice that all it is 3/4 parts milk, 1/4 parts espresso, and drizzle some sauce (maple, caramel, hazelnut, etc) over the drink. No fuss, no mess (though the same cannot be said for the hot version, but nothing that a good old cooking whisk can't fix).
I also wanted a healthier version of said drink without sacrificing the taste. You can choose the kind of milk (I've yet to try soy with this) so if you are calorie conscious this is a great way to stay on top of that. Additionally, the great thing about this recipe is that you can customize it any way you like, using different types of syrups if caramel isn't your favourite.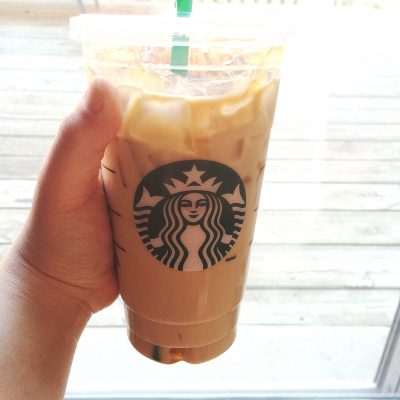 The only reason this drink sets me back $2.50 is because I cannot get the right espresso "formula" right with other coffee grinds and brands. I'm not a coffee connoisseur, so the process has been more errors than trials. Instead of wasting any more of my mom's favourite coffee grinds, I took a shortcut with buying the Starbucks' espresso shots.
How To Make Healthy Starbucks Iced Caramel Macchiato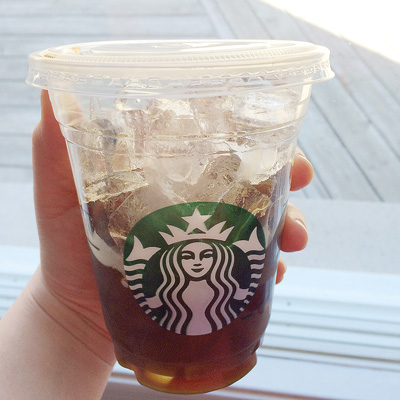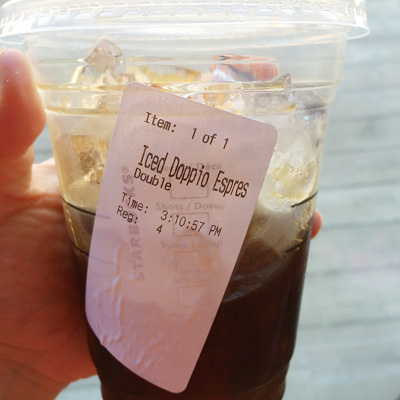 Ingredients:
Espresso (I always order a doppio espresso – two shots) for a Venti-size drink
1.5 cups of milk
Your favourite syrup/sauce; I use those caramel ice cream syrup
I always order my espresso over ice – that way I already have half the work done. I normally ask for a Doppio Espresso over ice in a venti cup which sets me back $2.45. Either at the condiment bar (or at home if you don't want to be getting dirty looks from the other barista/patrons), add 1.5 cup of milk to fill up the entire venti cup. Stir, and add your favourite syrup/sauce over the drink. Enjoy your drink with the happy thought that you just saved yourself half of the cost of a regular venti (and of course, kept the calorie and sugar count down low!)
Will you be trying this healthy Starbucks iced caramel macchiato? What do you think about Starbucks' iced macchiato drinks?