Most of you know that nail polishes make very little appearance on the blog. Once in a while I will review it, only if it has a good enough formula that I can be bothered to using. I'm a pretty low-maintenance person so spending 15+ minutes staying in a fixed spot while waiting for my nails to dry is a big no-no. Plus, I always, and without fail, will manage to smudge my nails irrespective of how much time I've allowed for the polish to set.
When I received the Dior Milky Dots Nail Polish Collection about several months ago, the colours were so perfect for the summer season and they were just begging to be worn. I knew I had to do something about it…
I haven't had a very good experience at the drugstore when it comes to base/top coats. The ones I've tried from Essie chipped so easily and peeled within a day of wearing it. I've tried OPI and Revlon's offerings but those didn't really live up to what I need. Fortunately, I came across essence cosmetics' offering which not only surpassed all of my expectations but also was a bargain compared to other options! To save you the trial and error as well as spending unnecessarily on high end brands when these are highly comparable, keep reading!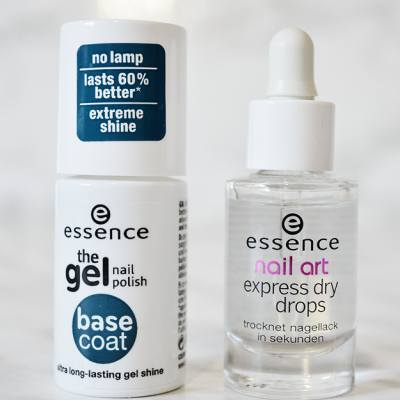 The Essence CosmeticsThe Gel Nail Polish Base Coat ($4.49, available here) is one of the best base coats I've come across. I'm not sure whether it was because it was specifically designed for gel nail polishes or because of a superior formula, but there's no peeling at all! It easily lasts at least 7 full days (I chose to take it off myself) and the best part is that it dries fast during application. On days when I don't feel like wearing any colours on my nails, I like wearing the base coat by itself. For this price, the base coat has truly exceeded my expectation and you can't go wrong!
The Essence CosmesticsExpress Dry Drops ($3.49, available here) is probably my favourite of the two as it makes any nail polish application a total breeze! A quick drop on each nail dries the polish in 60 seconds. I've been scouring salons, Sephora and the drugstore for a reasonably priced top coat that promises instant dryness (including the super popular Seche Vite) and spent a bit of money here and there without finding the right product. This one has completely been a game-changer and I will continue to repurchase – it's so cheap afterall!
This combination base and top coat that costs less than a latte definitely makes every nail polish application a breeze and makes the effort worthwhile! Every nail polish colour I'm wearing looks that much better – I love it! If you have been on the lookout for a bargain-priced, high quality nail polish base and top coats, give the Essence ones a try because they won't disappoint!
Have you tried Essence Cosmetics' base or top coats?