The Benefit CosmeticsIt's A Love Fest ($43, sephora.ca or Shoppers Drug Mart) is a 4-piece collection released in time for the holidays. I'm little late in sharing this mostly because I got it quite recently, but I wanted to share this amazing value set in case you spotted it while shopping. After several trips to 4 Sephora and 3 Shoppers Drug Mart, I finally found this set at the Sephora on Bloor Street (there were only 4 left when I bought it).
I've always been a fan of Benefit's creative and fun holiday sets, particularly since the sets are housed in a reusable container, like this tin. I purchase the holiday sets from 2012 and am still using the container as a catch-all display on my vanity. This tin is equally fun, and very pleasing to display on your vanity. The size is not too big or too small, perfect to store your samples, hair ties/elastic bands or keep bits and pieces stored in here to keep your room looking neat and tidy.
Benefit Cosmetics It's A Love Fest Holiday Tin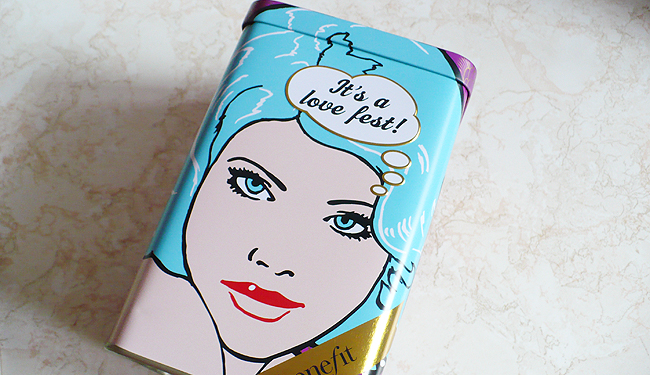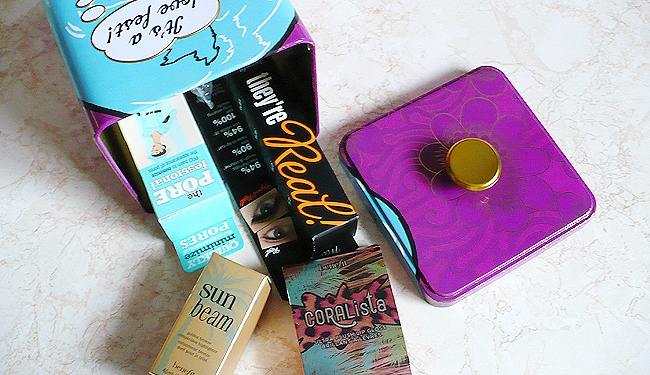 The Benefit CosmeticsIt's A Love Fest comes with four products, two of which are full-sized:
0.75 oz The POREfessional pore minimizing balm, full sized
0.3 oz They're Real! mascara, full sized
0.22 oz Coralista lip gloss, mini
0.13 oz Sun Beam complexion highlighter, mini
The tin includes a nice assortment and variety of products. I have tried and used some of these products in the past (the POREfessional, and They're Real mascara), and love them to bits. The size of the mini's are generous – they are definitely going to last at least a month of daily use.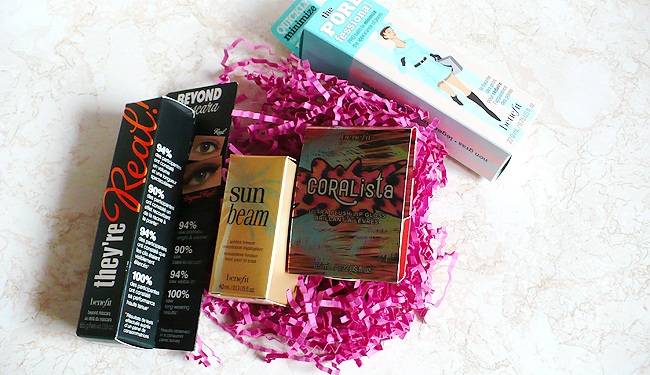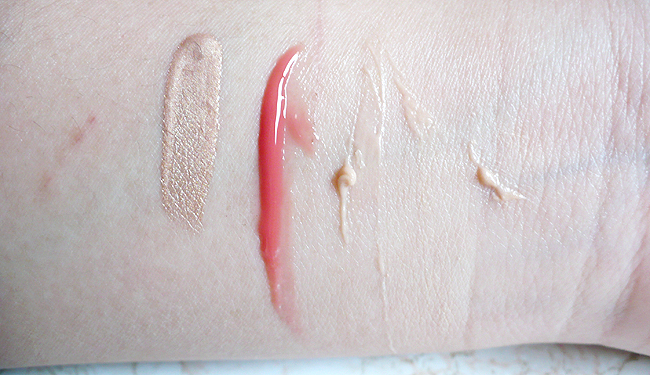 I wanted to share the Benefit CosmeticsIt's A Love Fest just in case you spotted this at your local Sephora or Shoppers Drug Mart. It's an amazing value set, and definitely worth the purchase if you are looking to try out Benefit's product line. It doesn't break the bank either (I used my $20 reward card to buy it), and you are getting so much out of this value set. It is also a perfect set to gift to someone who is just starting out with makeup, and may not be very familiar with the various beauty products available.
What about you? Have you finished your holiday shopping yet? Are you still looking for that "right" gift for your friend/sister/family? Do you have any last-minute holiday gift ideas that you'd like to share? Leave us a comment and share your tip!