A layer of dressing, the essence of memories, the beauty of exquisite flowers, the impression of presence—the fragrance is a synonym of magic! It's a sensory thing that forms a bridge between us and our precious moments. Everyone has their scent recognition, which reminds them of their presence.
Best Seller
Our Choice
Good Choice
Don't Miss
Maison Martin Margiela Replica Beach Walk, Eau De Toilette, Sunkissed Salty Skin, 3.4 Fl Oz
Maison Martin Margiela Replica Lazy Sunday Morning - Eau de Toilette 3.4 fl oz
Maison Margiela REPLICA Sailing Day Eau de Toilette Travel Spray 0.34 oz./10ml
Maison Martin Margiela Replica, Flower Market, 3.4 Fl Oz
Best Seller
Maison Martin Margiela Replica Beach Walk, Eau De Toilette, Sunkissed Salty Skin, 3.4 Fl Oz
Our Choice
Maison Martin Margiela Replica Lazy Sunday Morning - Eau de Toilette 3.4 fl oz
Good Choice
Maison Margiela REPLICA Sailing Day Eau de Toilette Travel Spray 0.34 oz./10ml
Don't Miss
Maison Martin Margiela Replica, Flower Market, 3.4 Fl Oz
Maison Margiela grabbed that concept and introduced a series of Replica perfumes. Each item of this series is made with a new clue and tells a different story. You might need some help to choose which one is your type. Thus, I've listed some most captivating replica perfumes by Maison Margiela in detail here.
Most Captivating Replica Perfumes By Maison Margiela
1. Replica Beach Walk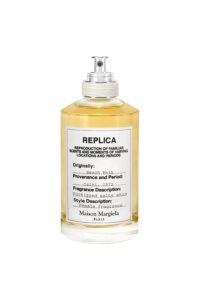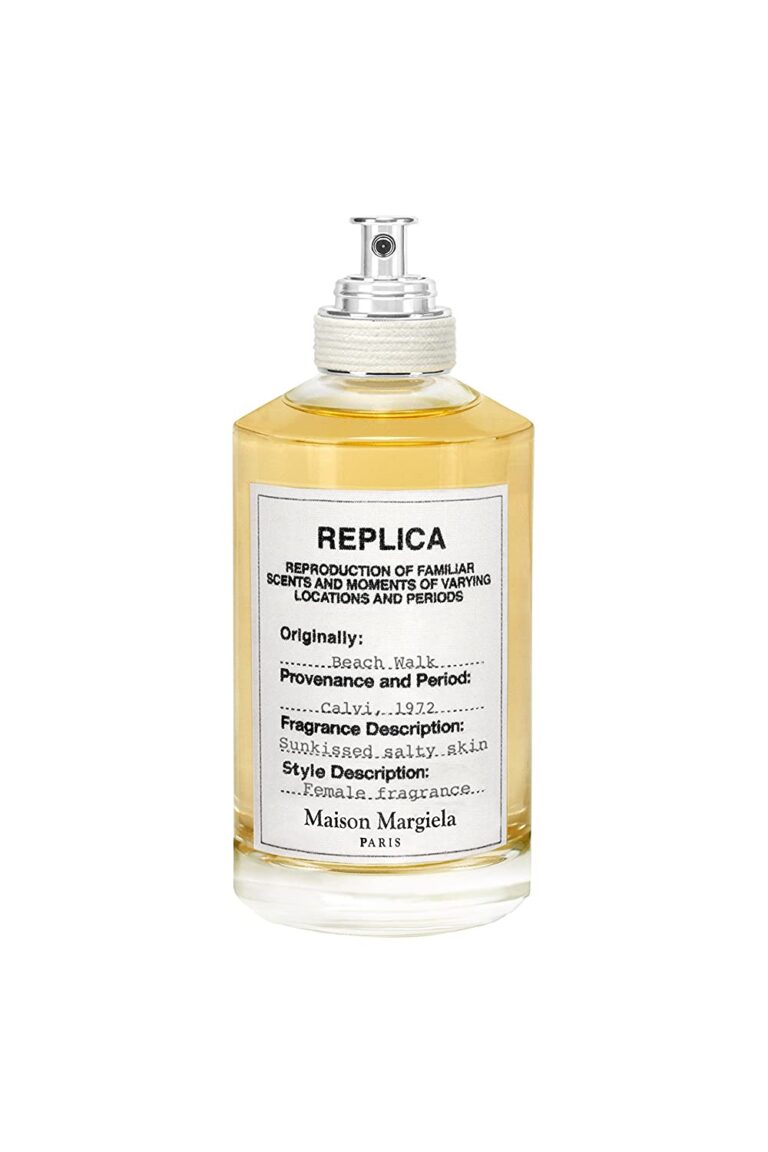 The first product on this list is "Beach Walk" by Maison Margiela, my personal favorite. It comes in a cylinder-like glass bottle which looks quite valuable. The pale-yellow perfume is visible through this bottle, complimenting the modesty of the Beach walk. At the top, there is a silver sprayer, which sprinkles perfume liquid evenly.
This Beach Walk is an inkling of summer days, as it has a radiant scent. The fragrance is made with bouquet notes. The top notes include bergamot, lemon, and pink pepper; the middle notes comprise Ylang-ylang, heliotrope, translucent, and coconut milk, while base notes contain benzoin, musk, and cedarwood. The scent is overall called "Sunkissed Salty Skin."
It is essential to consider how long a perfume lasts. I wore it on a beach day with my petroleum jelly and felt its essence stays all day long! It is a moderately strong perfume that is great for summers. If you like sweet and light aromas like sunscreen, then you should try this out!
Pros
Beautiful design
Radiant
Everyday wear
In a nutshell, it's a sweet perfume that will add a mesmerizing aroma to your soul. I found it great for summer; you can wear it casually as it is not too intense. If you're searching for an everyday perfume by Maison Margiela, then Beach Walk would be a great option.
2. Replica By The Fireplace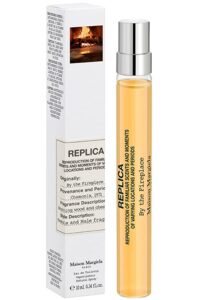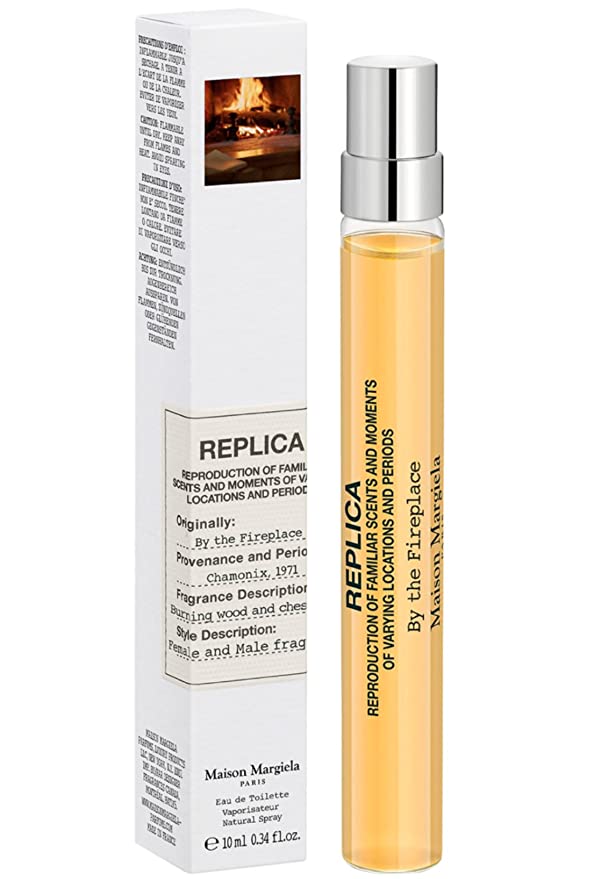 "By the Fireplace" by Maison Margiela is an immerse winter scent. It comes in a velvety seek bottle, which is easy to carry. The yellowish liquid is visible from the glass bottle, helping you keep an eye on the perfume left. Its mouth is on the peak, allowing you to sprinkle it with ease. All in all, I love the design of this handy item.
The Fireplace smells spicy. It is a blend of orange flower, chestnut, notes of clove, and vanilla, creating a signature cozy aroma of a crackling fire. This unisex bouquet is a perfect meld of spice and sweetness. I felt it was like a mix of red berries, vanilla, and clove.
The Fireplace is like a blanket that wraps you in its spicy aroma, which lasts longer than usual perfumes. I suggest you smear it in the creases or joints of elbows or knees to have a solid and long-lasting effect. You can wear it at weekend parties or cozy night-outs.
Pros
Easy to carry
Lasts longer
Blend aroma
Boiled down, it's a woodsy, leathery, spicy warm perfume that stands for a long time. It comes in a sleek traveling bottle that is effortless to carry. However, some reviewers want it to have more floral notes, which will make it more feminine.
3. Replica Lazy Sunday Morning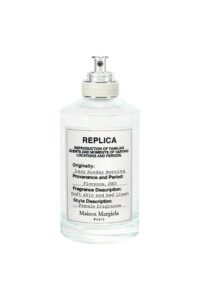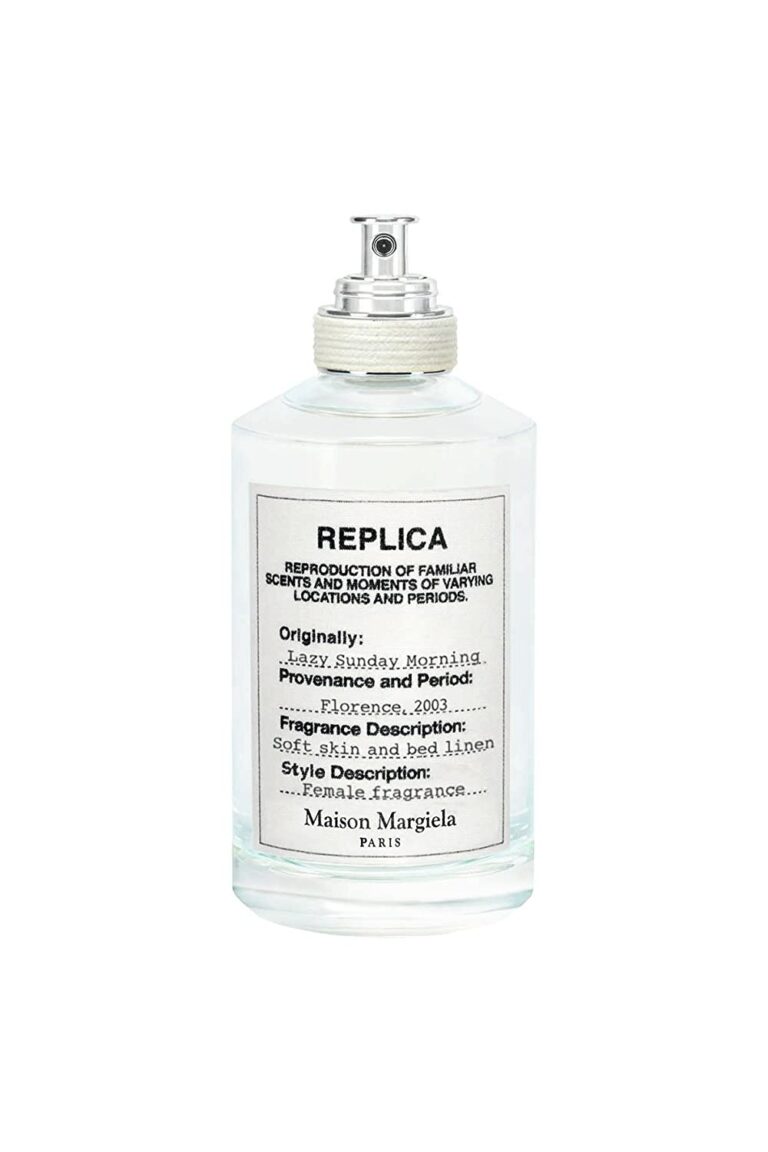 The third choice on this list is called "Lazy Sunday Morning" by Maison Margiela. It's an Eau de Toilette perfume which is translated as grooming water or scented water. These toilet waters are used as skin fresheners or everyday perfumes and give a pleasant and light fragrance. As the name says, it is the most pleasing perfume to wear in the mornings because its sweet scent motivates the whole day.
The Replica Lazy Sunday Morning boasts a "linen" fragrance that is inspired by laundered trees. It is a floral perfume that includes notes of melon, citrus, and orange flowers. A range of scented candles contains the linen fragrance because it is simple and comforting.
If you believe more in the essence of simplicity than intensity, then this will be your always-favorite perfume. It is not too concentrated but good to wear in your routine. The negative side of this perfume is that it is not returnable, but trust me, you'll never wish to do that either.
Pros
Pleasant fragrance
Good for daily wear
Nice packaging
Putting it briefly, the Lazy Sunday Morning is one of the most acceptable options for daily wear in a replica marketplace. I want to appreciate its sweet and light scent, which is quite refreshing. It would be an excellent present too, on someone special's birthday.
4. Replica Sailing Day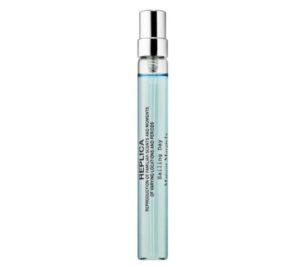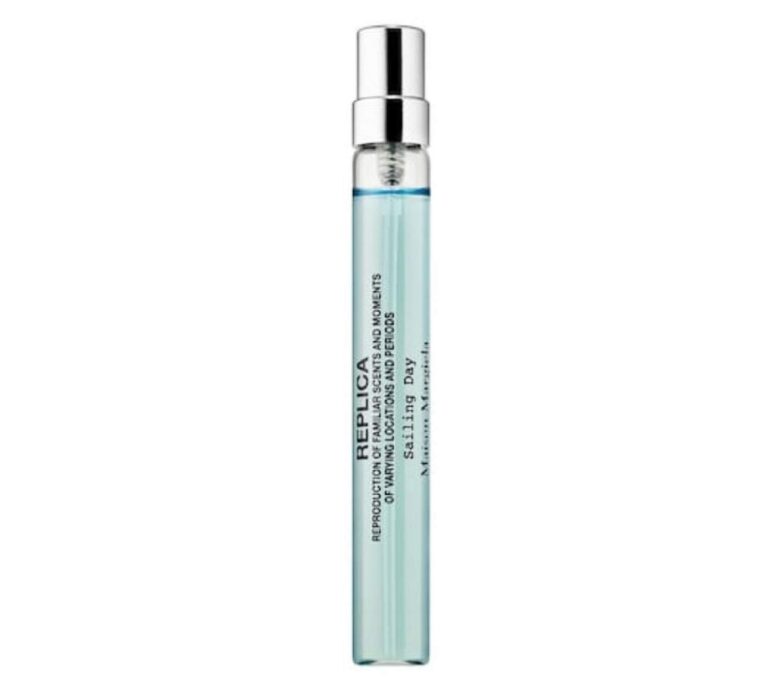 Here comes the "Replica Sailing Day" by Maison Margiela. The best thing about this perfume is that it is unisex, meaning any sex can wear it. I heard that unisex perfumes are not up to the mark for fragrance, but that's not true.
I experienced that unisex perfumes are equally scented, but what makes them different? The unisex fragrances are made with equal masculine and feminine notes, making the scent unique and defensible.
The Sailing Day smells amazingly perfect. It includes rose super essence, coriander, ambergris accord, juniper essence, iris, and red seaweed, collectively making it more lovely and pleasant. I love the smell of coriander which is why I wear this perfume when I feel down. It adds a refreshing and stimulating vibe to the atmosphere.
The packaging of this perfume is excellent too. It comes in a sleek, travel-friendly glass bottle coupled with a sprayer and cap. You can quickly put it in your bag or pocket. Though this perfume is excellent, the fragrance does not last all day. That's why to keep your bottle along.
Pros
Travel-friendly
Unisex
Refreshing fragrance
In short, Sailing Day is a mesmerizing blended fragrance like an ocean. It is ideal for traveling or beach days and feels substantial. I found it a reasonable option in today's market.
5. Replica Flower Market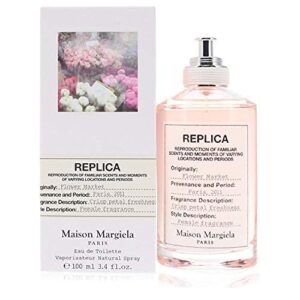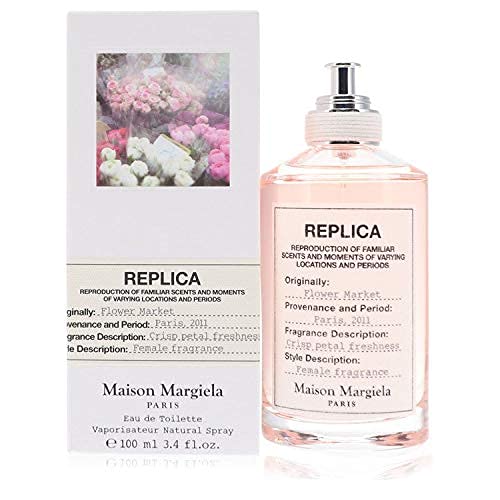 Last but not least is" Replica Flower Market" by Maison Margiela. As the name indicates, it's a floral scent, meaning it originated from the essence of flowers. The floral fragrance has a good market reputation and is produced by many brands. It is a feminine-oriented scent, consisting of blossoming notes, which smells like a sugary flavor.
The Replica Flower Market possesses a "Crisp Petal Freshness" scent. It contains notes of champagne, rose, bergamot, cedarwood, and lychee. It is one of those perfumes which have the correct amount of intensity. This Flower Market is sweet as lychee and cheering as champagne!
The best thing about this perfume is that it's not out of budget. Buyers typically go for a replica option because the original one is too expensive. Thus, low-priced one is always in demand. However, this lovely perfume is not an overpowering fragrance; you've to reapply it to enjoy it all day long.
Pros
Floral
Rightly intense
Not expensive
In essence, the Flower Market is the top-grade floral perfume that comes with a blend of flower and fruit. The packaging, design, scent, and price are all reasonable. I highly suggest it for casual wear.
Buying Guide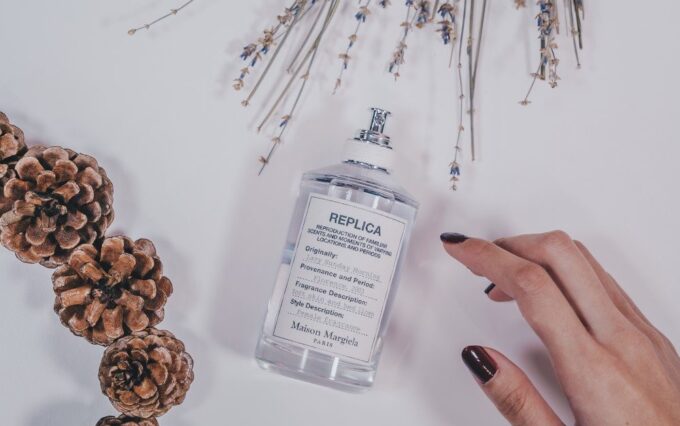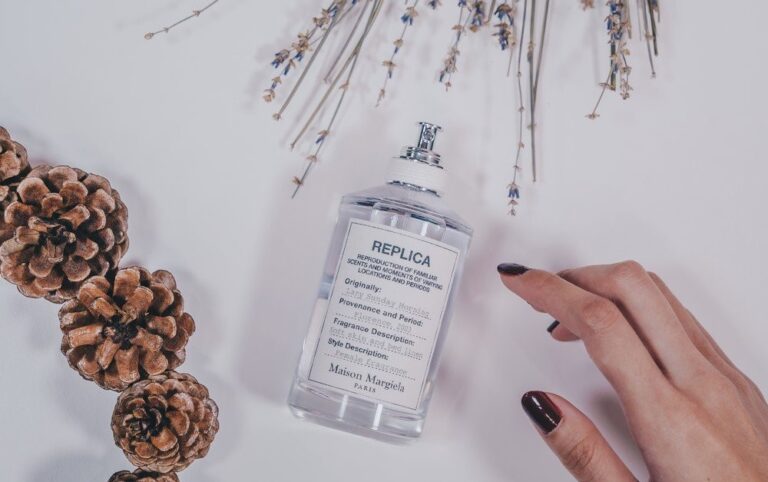 You've gone through the five most captivating replica perfumes by Maison Margiela. Now, it's time to understand some terminologies and things that assist you further to have your hands on the best product. Undoubtedly, perfume is something very precious, and nobody wants to have an irritating aroma. Therefore, don't skip this portion!
Fragrance Structure
"How does this or that perfume smell?" is one of the most repetitive questions when buying a fragrance. To answer this question, it is essential to understand a fragrance structure. The assembly or structure refers to top notes, middle notes, and base notes which collectively make a perfume.
A top note is also called a headnote and is the opening impression of a fragrance. When someone opens a perfume bottle and applies it to the skin, they smell the top note first. This headnote lasts for a maximum of thirty minutes, and then it fades away. Typically, the headnotes consist of light and smooth ingredients like citrus, lemongrass, lavender, etc.
After the top note, the middle notes become perceptible to the user. These notes are also called heart notes. These are medium in weight and give the impression after a period. The heart notes are generally composed of floral elements like lavender, ylang-ylang, rose, geranium, jasmine, etc.
Some perfumes manufacturers also utilized spices to make middle notes like coriander, cardamom, cinnamon, etc. These are the most prominent notes and last for hours.
After heart notes, the base notes become noticeable. These are also called the end or bottom notes. The endnotes are long-lasting, holding the aroma together. When you spray perfume on your skin, the base notes linger for the longest time.
If you've smelled a scent for a long time, then endnotes are probably what you've experienced. The ingredients used in making these notes are oakmoss, musk, patchouli, vanilla, sandalwood, etc.
Perfume' Concentration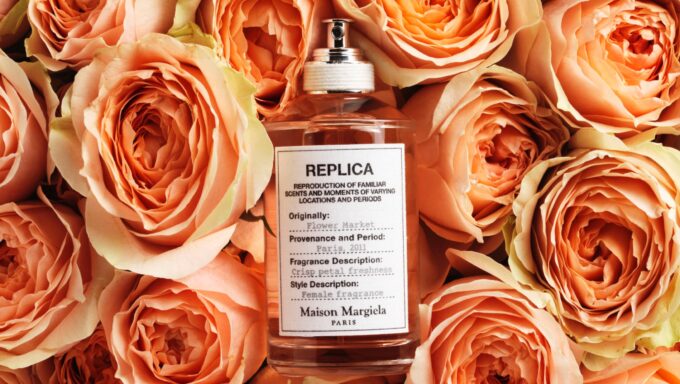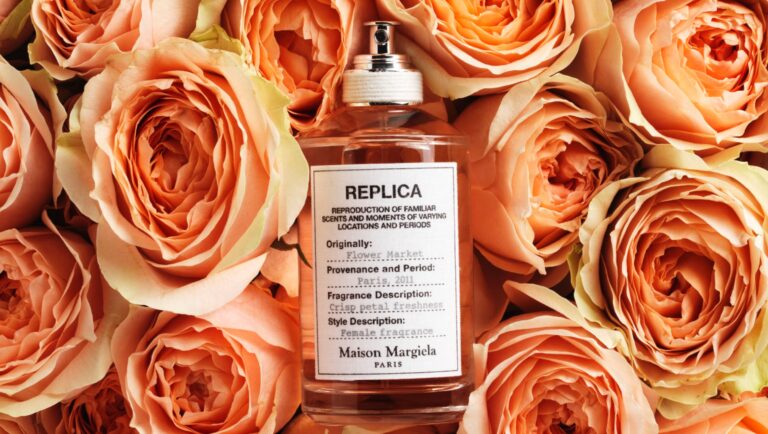 Concentration is imperative to consider while purchasing a captivating perfume. The fragrances with higher concentrations contain more oils and a lesser quantity of alcohol and vice versa. In other words, concentrated perfumes have a more potent aroma that lasts longer than less concentrated ones.
You can check the concentration of each perfume on its bottle; it is typically labeled on either side.
Extrait De Parfum
You might have seen this label on perfume bottles and want to know it. Thus, I included this in my buying guide section. Extrait De Parfum is translated as pure perfume, containing the highest concentration of fragrance ranging from 15 % to 40 %. It lasts for almost eight hours which is remarkable.
The best benefit of having this perfume is that it is less hazardous to the skin. However, these are a bit pricey.
Design
The packaging, bottle shape, and sprayer type vary from perfume to perfume. I love the glass bottles for perfume because it looks nicer and shows the quantity left in the bottle. The plastic ones seem cheaper and slashed. If you travel a lot, go for slim pocket-fitted designs like Replica Sailing Day by Maison Margiela.
Price
As I said before, buyers are interested in purchasing replicas mainly because the original one is too expensive. In this sequence, it is always a good idea to own one which is reasonable yet surpassing. The most budget-friendly replica perfume by Maison Margiela is the Flower Market.
FAQs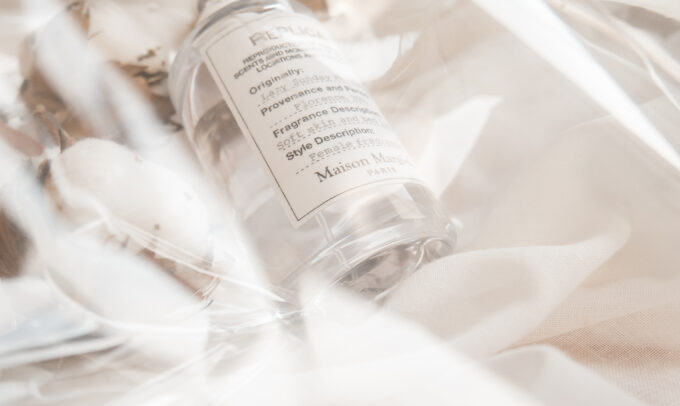 Is Replica a good perfume brand?
I have an expensive taste in perfumes, but Maison Margiela has a sequence of replicas that smells like a rare breed. These are not too expensive and offer mesmerizing fragrances, which is quite promising. I love the names of their perfumes collection too.
Is it safe to use cheap perfume?
Never spend your money on something which is not tested and is extremely low-priced. Government testing has claimed that some perfumes and cosmetics contain dangerous ingredients which can cause severe skin problems. Thus, it's always better to collect some money and wait for a worthy item.
What does replica laReplicaay morning smell like?
Lazy Sunday Morning by Maison Margiela is one of the famous perfumes from the collection. It has a smooth, floral aroma and is light. It contains notes of white musk and Lilu, which smells comforting and refreshing.
Summary
Reproduce your beautiful moments by smelling the fragrance! I am sure you'll love the replica perfume series by Maison Margiela. I've listed the best ones, along with a buying guide that will help you get your favorite one. Still, if you're confused to find one, then look at these top three choices:
In the end, I must say please consider your choice and budget before spending your bucks at any time. Never purchase a non-tested or cheap perfume, or you'll hurt your skin. I think the given information would be enough to solve your puzzling thoughts on the Maison Margiela replica collection.
Make your memories speak through fragrance!
Take a look at the following perfumes by Maison Margiela:
Sale
Sale